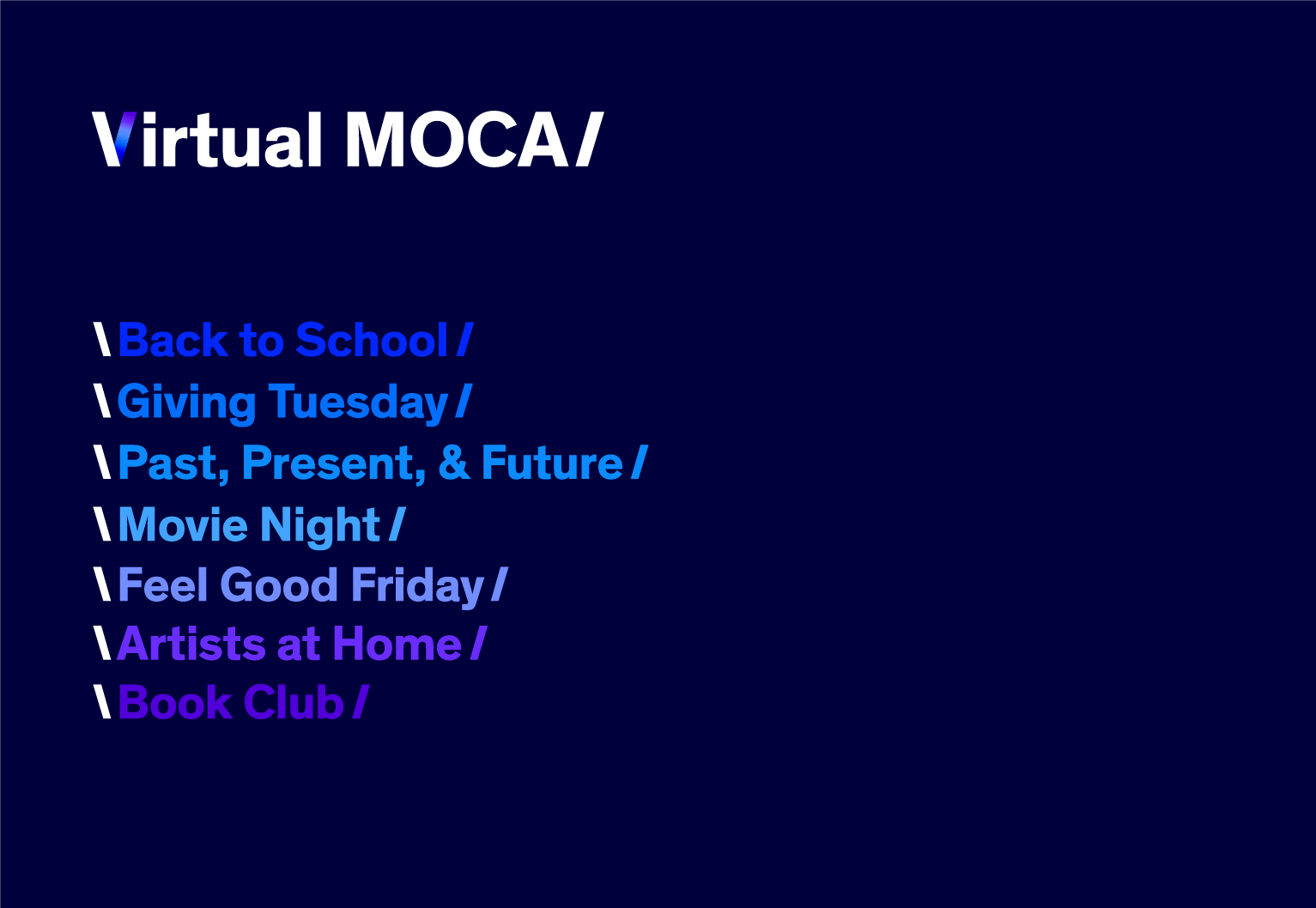 With MOCA's temporary closure, we wanted to offer you a virtual way to stay connected and build community. Introducing Virtual MOCA!

The museum has created new and daily series that is available on moca.org and across MOCA's social media platforms: Instagram, Facebook, and Twitter. We hope to continue to provide hours of meaningful, creative, and fun opportunities for all of us to connect during this moment of physical distance. See below for a full schedule of offerings:


Monday: Back to School
MOCA Education makes education more collaborative, inclusive, and learner-centered, and nurtures intellectual growth through transformative experiences with contemporary art. Join our team of MOCA educators as they lead different family friendly activities through interactive workshops, virtual Talking Tours, and classroom curriculum discussions. It is fun for all and particularly helpful for homeschooling!

March 23 - Family Guide PDF
March 30 - Family Guide PDF
April 6 - Family Guide PDF
April 13 - Family Guide PDF
April 20 - Family Guide PDF
April 27 - Family Guide PDF

Tuesday: Giving Tuesday
MOCA will share ways that we can come together to support our communities in need. Whether renewing your membership, ordering delivery from local independent businesses, or donating goods and services to those that could use it the most, Giving Tuesday will highlight ways we can all help sustain and strengthen our communities.

Wednesday: Past, Present, & Future
Look back and reflect on MOCA's history, past exhibitions, initiatives, programs, and permanent collection, and see how all of these efforts relate to our present offerings and future initiatives. This series is led by MOCA's team of curators.

Thursday: Movie Night
Join us for a #TBT look at MOCAtv videos and previously produced video footage, shared through our social channels for a screening night at home!

Friday: Feel Good Friday
Take a moment for meditation, visual thinking strategies exercises, thoughtful and serene education chats, and viewing works from the permanent collection that bring peace and joy!

Saturday: Artists at Home
Join us on Instagram for a takeover series featuring a different artist each week!

Sunday: Book Club
Led by Assistant Curator and Manager of Publications Bryan Barcena, MOCA's Virtual Book Club will provide readings and essays with discussion prompts to create a dialogue and open space for exploration and conversation.


To join in on this virtual series, please visit MOCA's programming page and follow our social channels:

Instagram: @moca
Facebook: @mocalosangeles
Twitter: @mocalosangeles

All Virtual MOCA content is archived and sent out via email at the end of each week. For easy access to previous programs, subscribe to our mailing list.