The Geffen Contemporary at MOCA
November 19 and 20, 2021, at 7:30 pm

Co-created by Ash Fure and LILLETH
Presented by MOCA and The Industry
Produced by The Industry

HIVE RISE is a physical encounter with sound.

Debuting originally at Berlin's iconic techno club Berghain in January 2020, HIVE RISE reemerges in a site-specific staging composed and performed by Ash Fure, directed and choreographed by LILLETH, with scenic architecture by stock-a-studio, costume design by Carlos Soto, lighting design by Kelley Shih, video design by Hana S. Kim, and dramaturgy by edxi.

In this performance installation, The Geffen Warehouse is transformed into collective listening zones that are activated by human voices, subaudible subwoofers, architectural resonances, and psychoacoustic beats. Fure plays live on a rig of speaker cones that pulsate the air. And 14 performers with 3D-printed megaphones flock in formations throughout the crowd, modeling cooperation and sending slivers of white noise straight to the skin.

Amidst ongoing states of emergency, HIVE RISE animates sonic protocols that recalibrate our interdependence. This US premiere is presented by MOCA and The Industry, where Fure is a co-Artistic Director offering new directions for experimental opera.

Co-created by Ash Fure and LILLETH
Composition and music direction – Ash Fure
Direction and choreography – LILLETH
Scenic architecture – Laida 'Xavi' Aguirre / stock-a-studio
Costume design – Carlos Soto
Lighting design – Kelley Shih
Video design – Hana S. Kim
Sound design – Derek Williams
Dramaturgy - edxi
Performers – Eliza Bagg, Jay Carlon, Destefano DeLuise, Ash Fure, jeremy guyton, Kasper, Kelci Hahn, Joanna Lynn-Jacobs, Sharon Chohi Kim, Jasmine Nyende, Rayne Raney, Tianna Nicole, Davia Spain, Kalean Ung, Taylor Unwin
Executive Producer - Elizabeth Cline, The Industry
Stage Manager – Morgan Johnson
Costume Associate – Parisjoy Jennings
Scenic Associate – Delaney McCraney
Megaphones – Matter Design
Visual Identity and Graphics –ALL PURPOSE
Communications – Sounding Point, for The Industry

HIVE RISE premiered at Berghain in Berlin, Germany on January 28, 2020. Co-commissioned by CTM Festival and the DAAD Artists-in-Berlin Program. Curated and Produced by Dahlia Borsch.

This performance is made possible in part by a grant from the City of Los Angeles Department of Cultural Affairs. Additional support is provided by DAAD Artists-in-Berlin Program and Taubman College of Architecture & Urban Planning at the University of Michigan.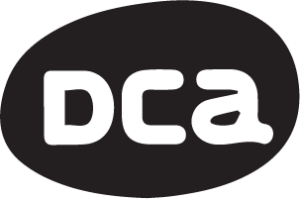 HIVE RISE is presented in L-ISA Immersive Sound technology by L-Acoustics.

About the Artists:

ASH FURE (Composer + Co-Creator) is a sonic artist who blends installation and performance. Called "purely visceral" and "staggeringly original" by The New Yorker, Fure's full-bodied listening experiences open uncommon sites of collective encounter. Operating outside language or story, Fure shapes charged multisensory atmospheres that listeners and performers navigate together. Recent immersive productions include HIVE RISE (2020), commissioned by Club TransMediale (CTM) and premiered in Berlin's iconic Berghain club; Filament: for Trio, Orchestra, and Moving Voices (2018), commissioned by the New York Philharmonic and premiered in New York's Geffen Hall; and The Force of Things (2017), an installation opera, premiered at Peak Performances, that wrestles with the rising tide of climate grief inside us. Fure is a Co-artistic director for The Industry, an Associate Professor of Music at Dartmouth College and holds a PhD in Music Composition from Harvard University. A finalist for the 2016 Pulitzer Prize in Music, Fure is the recipient of two Lincoln Center Emerging Artists Awards, a Guggenheim Fellowship, a Rome Prize in Music Composition, a DAAD Artists-in-Berlin Prize, a Foundation for Contemporary Arts Grant for Artists, a Fulbright Fellowship to France, a Darmstadt Kranichsteiner Musikpreis, and a Mellon Postdoctoral Fellowship from Columbia University.

LILLETH (Director + Co-Creator) is an artist, director, and choreographer based in Lenapehoking (Brooklyn) and Berlin. They direct and choreograph large-scale somatic sound-theatre. In collaboration with composers, dancers, designers, and organizers, LILLETH visions social sculptures that aim to transport us to a more liminal, visceral, dream-like state. Through visual dramaturgies, slow, functional movement, geometric sigils, utilitarian tasks, and precisely composed sound, LILLETH co-creates embodied rituals in a collective effort towards release and liberation. Through these wordless, sensorial theatrical experiences, they aim to create a somatic release for and with their collaborators and audiences through process and performance. LILLETH is the co-creator at You Are Here alongside Rad Pereira, and consults across myriad cultural institutions as performance director and creative producer. LILLETH's work has been shown at Lincoln Center, the Brooklyn Academy of Music, The Kitchen NYC, Berghain x CTM Festival Berlin, NOWNESS, American Academy in Rome, DAAD Galerie, Bushwick Starr, National Sawdust, Superblue, P-E-O-P-L-E Festival x Funkhaus Berlin, Abrons Art Center, Ars Nova, and myriad site-specific locations.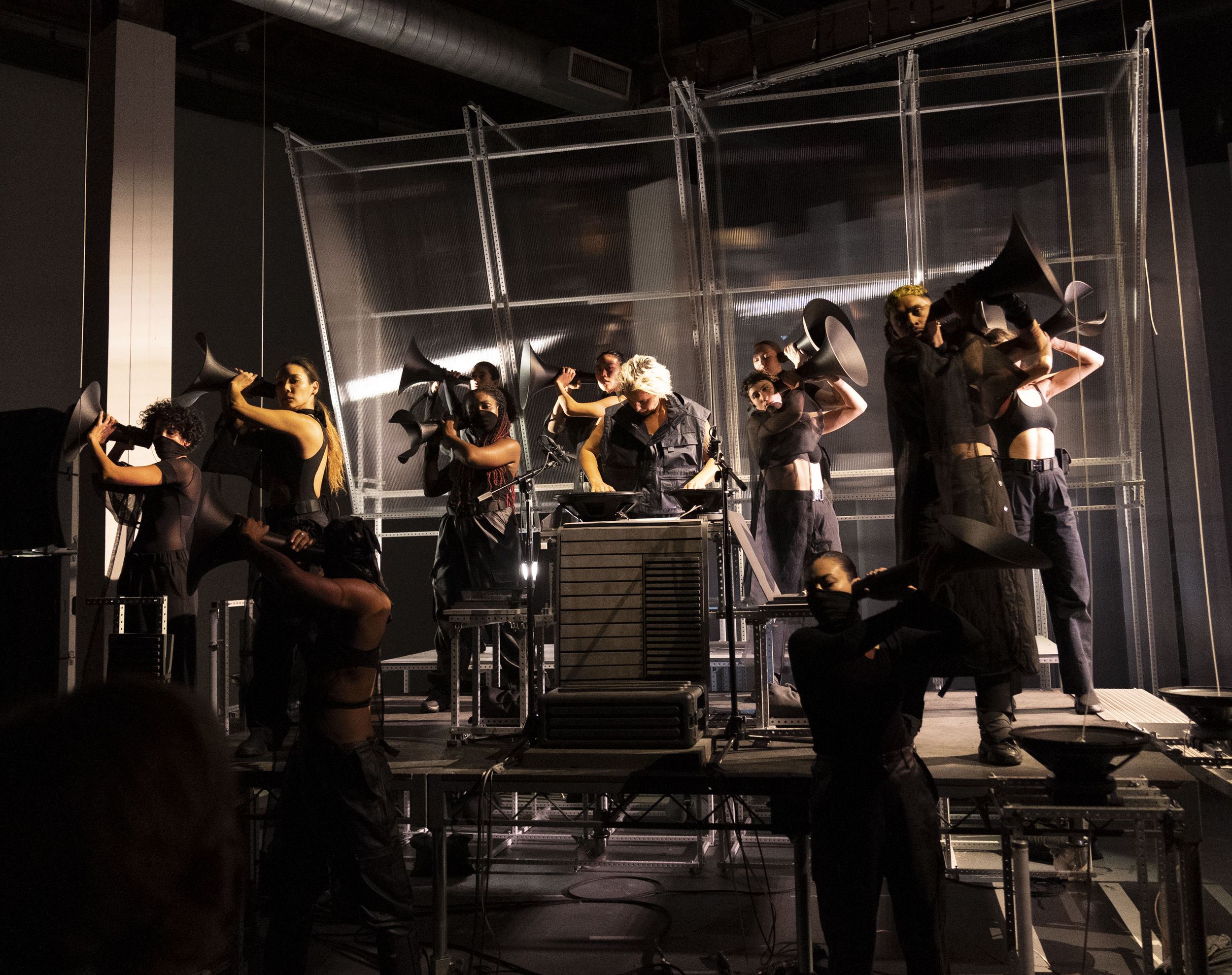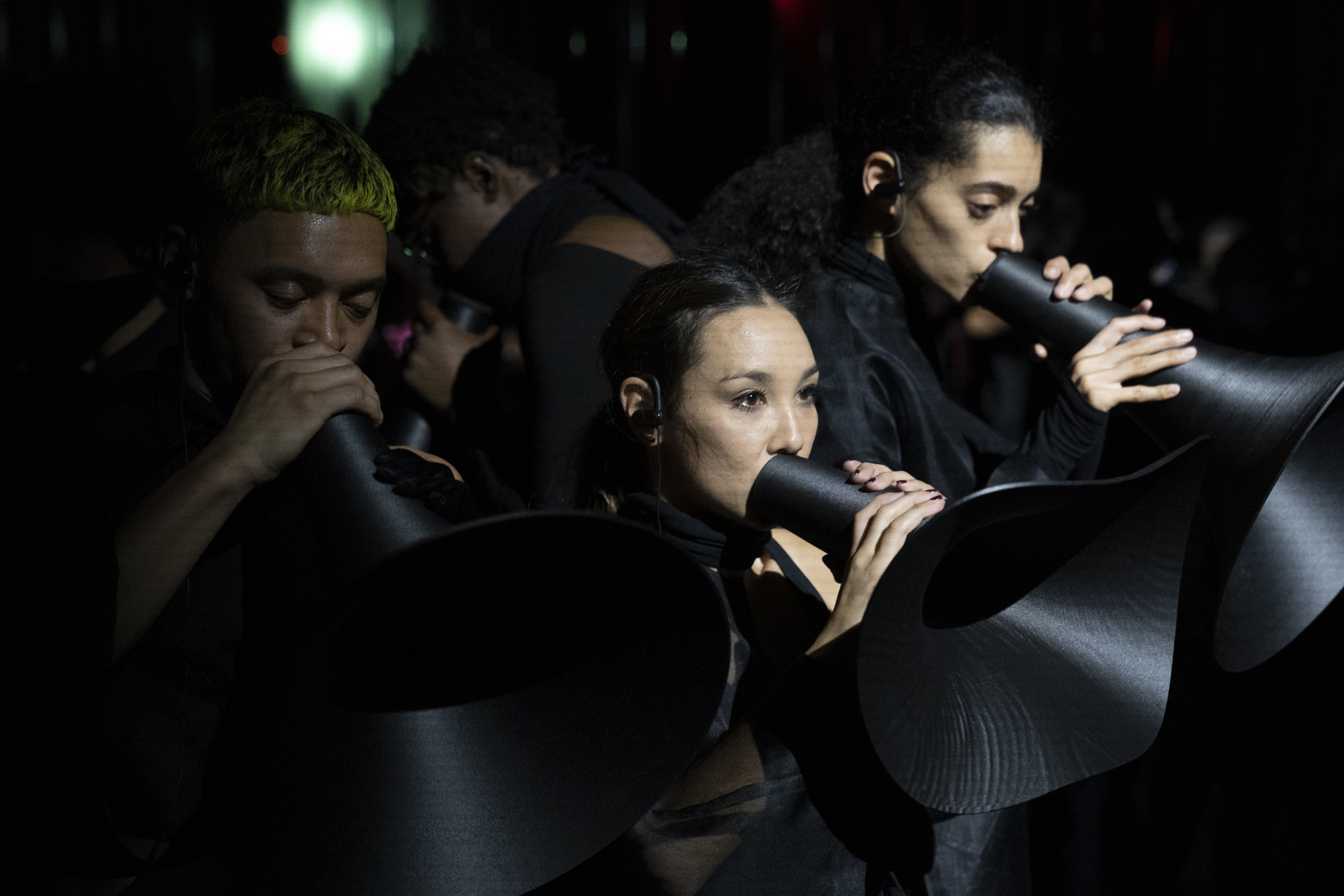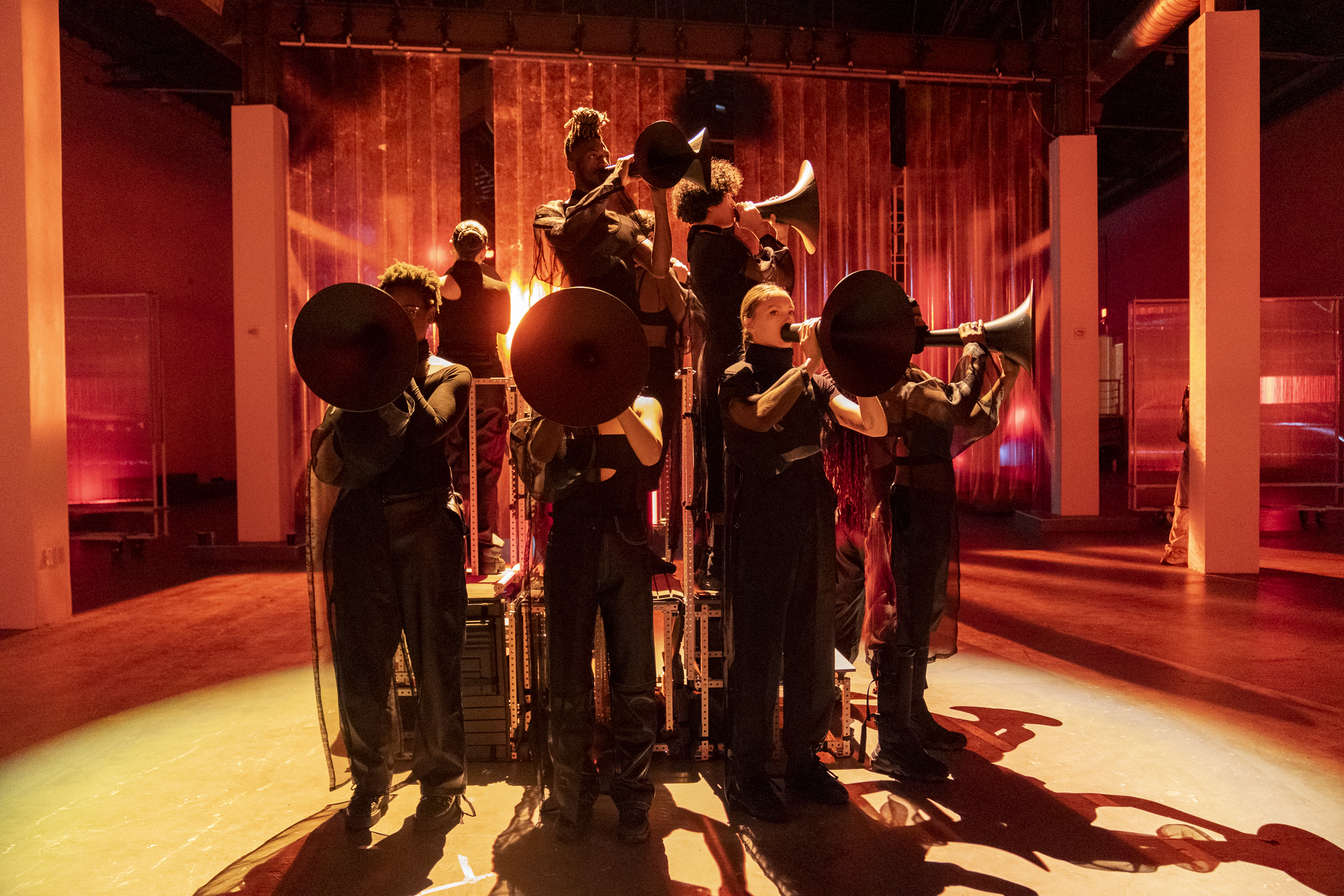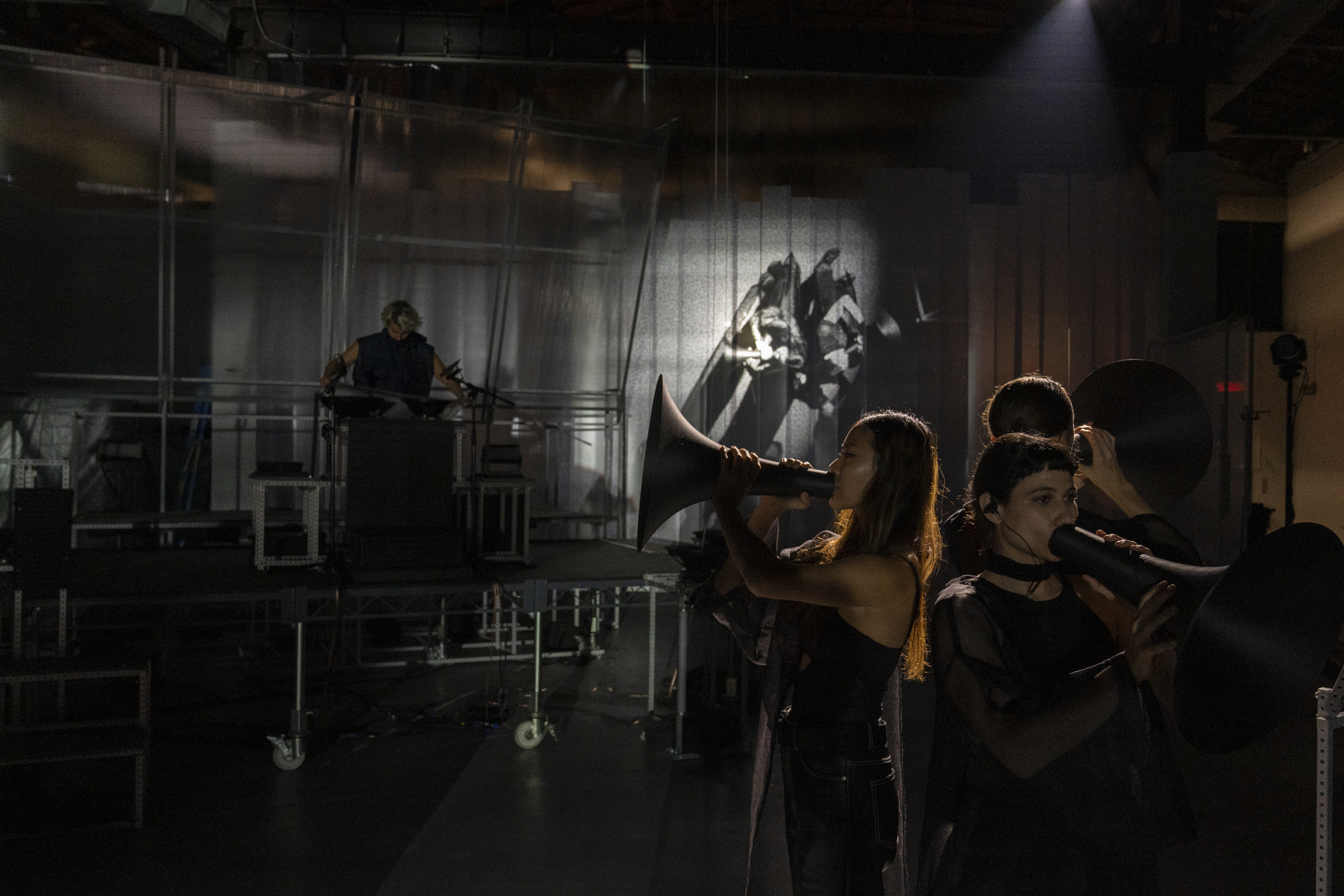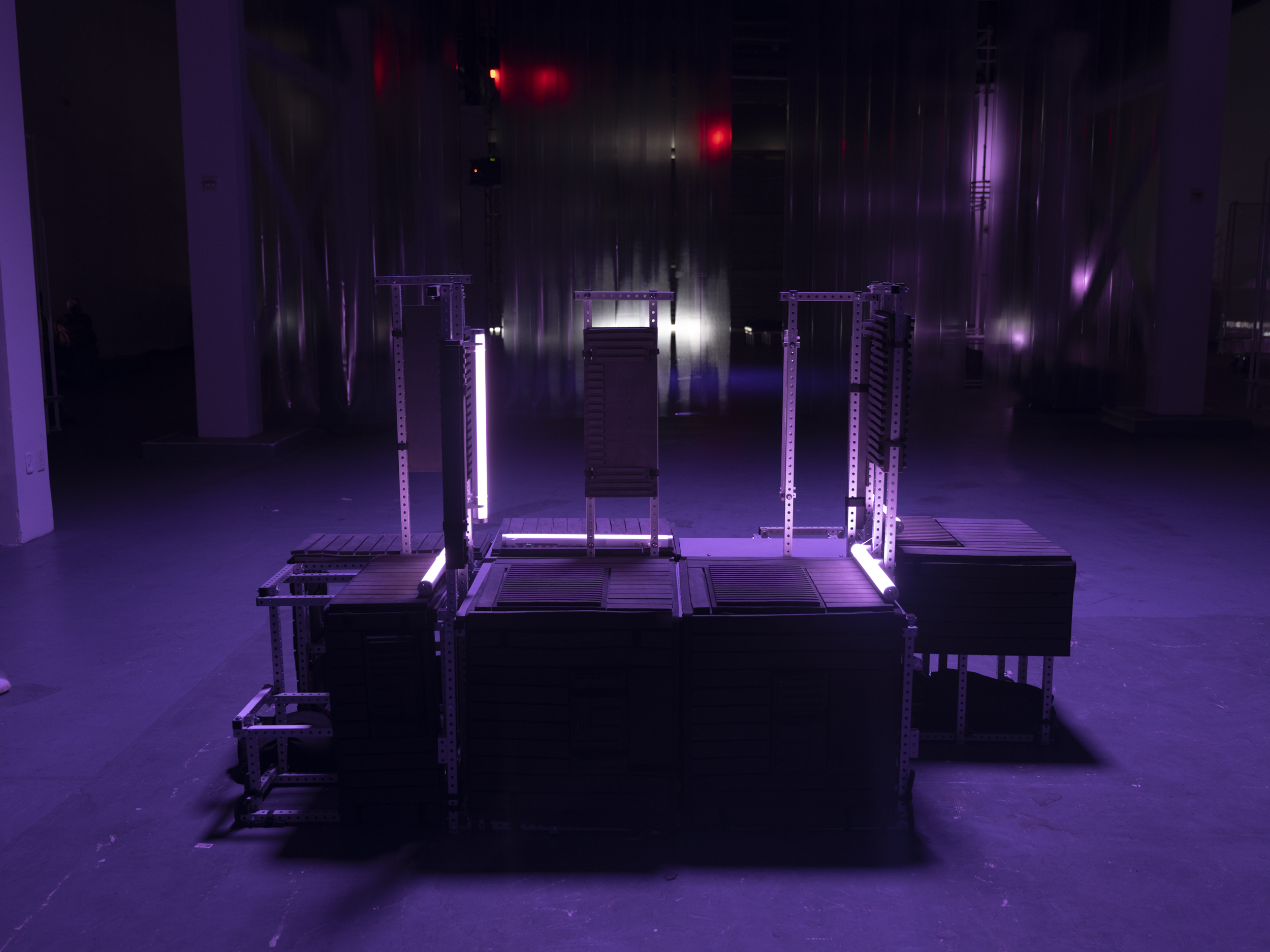 Installation view of HIVE RISE, presented by MOCA and The Industry, November 19-20, 2021, at The Geffen Contemporary at MOCA. Photo by Sam Richardson.