HI, SOLO is a bi-annual performance series conceived by Alexx Shilling and Devika Wickremesinghe in 2015. Using a structure inspired by dancer and choreographer Mark Haim, HI, SOLO presents an evening of dance, which centers artists making performance work in Los Angeles. Artists are challenged to adapt varying choreographic and improvisational strategies to respond to the call: perform a new solo work in three-minutes time. HI, SOLO #11 recommences this Pieter Performance Space tradition and longstanding offering to Los Angeles' dance community by presenting new performances by Ana María Alvarez, Creighton Baxter, Shauna Davis, DeFacto X, Edgar Fabián Frías, Jackie "Miss Funk" Lopez, Jobel Medina, Yunuen Rhi, Michelle Sui, and Estrellx Supernova.

Alexsa Durrans is a Canadian choreographer and dance artist currently based in Los Angeles. She works collaboratively and across genres to amplify embodiment and collective experience. These movement assemblages are modes to deviate to new possibilities of interaction.
Miles Brenninkmeijer is a dancer based in Los Angeles. Through improvisational scores, they use movement to engage material subjects in collaborative choreographies.

Jobel Medina (b. 1990 Pasig City, Philippines) is a creative artist currently working in choreography, photography, and film to explore the transformative effects of excess and exaggeration and their connection to queerness. He received his MFA in Choreography at California Institute of the Arts and BFA in dance at California State University, Long Beach. Jobel has recently premiered, David My Goliath at REDCAT as part of the NOW festival. He has also presented works at Navel [2020], Human Resources Los Angeles [2019], Highways Performance Space [2017] and was a member of Ate9 Dance Company from 2017 to 2022 where he has performed at The Royce Hall, Jacobs Pillow, The Wallis, Boston Institute of Contemporary Arts, The Ford. As a dance freelancer, he has worked with artists such as Tino Sehgal at The Hammer Museum; Simon Mcburney with The LA Philharmonic at The Walt Disney Concert Hall; Christopher Bordenave at The San Francisco Symphony Hall. Additionally, he's worked with choreographers such Shahar Binyamini, Tom Weinberger, and Kate Wallich.

Ana Maria Alvarez, a 2020 Doris Duke Artist and an inaugural Dance/USA Artist Fellow, is a prolific choreographer, a skilled dancer, masterful teaching artist, and movement activist who has achieved multiple accolades for her dynamic works. Alvarez is a two-time grantee of NEFA National Dance Project and was honored to be selected as the 2018 BiNational Artist in Residence, connecting cultural communities in the Sonoran Desert. Alvarez founded CONTRA-TIEMPO Activist Dance Theater in 2005 and they have been invited for multiple tours in Central and South America, as cultural ambassadors through the US State Department. Alvarez was recently commissioned by the Getty to create a dance film as a part of Poussin and the Dance, on view until the end of May 2022. Alvarez received a BA in Dance and Politics from Oberlin College and an MFA in Choreography from UCLA. Alvarez is working on her Dunham Certification, Level 1 Certificate in Responsive Body with Holly Johnston and is teaching Salsa every Thursday night at Brasil Brasil Cultural Center as her weekly joy practice. She is currently working on three major projects: Azucar with CONTRA-TIEMPO, a duet with pianist and artivist Arturo O'Farrill, and a collaboration with Cornerstone Theater called Body Politic. She lives in Los Angeles with her husband and two children.

Edgar Fabián Frías works in installation, photography, video art, sound, sculpture, printed textiles, GIFs, performance, social practice, and community organizing, among other forms. Frías is Wixárika and their family is from Mexico, though they have lived in the United States for most of their life. Their art addresses historical legacies and acts of resistance, resiliency, and radical imagination within the context of Indigenous Futurism, spirituality, play, pedagogy, animism, and queer aesthetics. Weaving together the traditional and ancestral with the contemporaneous and emergent. Born in East Los Angeles in 1983, Frías received dual BA degrees in Psychology and Studio Art from the UC, Riverside. In 2013, they received an MA in Clinical Mental Health Counseling at Portland State University in Portland, Oregon, with an emphasis on Interpersonal Neurobiology and Somatic Psychotherapy. Frías is a 2022 candidate for an MFA in Art Practice at UC Berkeley. Their work has been exhibited internationally, including the Vincent Price Art Museum, Institute of Contemporary Art San Francisco, Oregon Contemporary, MOCA Jacksonville, Performance is Alive, Project Space Festival Juárez, and ArtBo, among others. Their work has appeared in Cosmopolitan, Taschen, Bustle, Mashable, Slate, CVLT Nation, Terremoto, Hyperallergic, and other publications.

Jackie Lopez aka Miss Funk is a first-generation Los Angeles native. She was the first in her family to graduate high school, continue her education in LA Valley College, transfer to a UC and graduate, all due to the impact of the arts and dance in her life. Jackie graduated Summa Cum Laude from UCLA in 2004 from the Department of World Arts and Cultures, with a concentration in Dance. For the last 20 years, Jackie has been working as a professional dancer, choreographer, teaching artist, and cultural educator who has worked with students and artists of all ages from LA, NYC, Philly, Israel, United Kingdom, France, Colombia, and India. Jackie is the Co-Founder/Co-Artistic Director of Versa-Style Dance Company (a certified 501 (c) (3) non-profit organization). Versa-Style's mission is two-fold; it's a professional Hip Hop touring company providing dancers from the inner city to thrive as full dance professionals, while also providing Hip Hop arts programming to the youth in underserved communities in Los Angeles. Jackie has created a pipeline in which many first-generation students have benefited both artistically and academically. Furthermore, she's currently a Lecturer at UCLA's Dept. of World Arts and Cultures/Dance teaching Hip Hop dance. Miss Funk found love for street dance since the late 90's and she has continued to serve the community of Hip Hop dance for over 20 years. Some of her accomplishments and victories: First Latina Woman to teach Hip Hop dance and build the Hip-hop curriculum at the University of Los Angeles (UCLA) since 2009; Lester Horton Artist Appreciation Award presented by the Dance Resource Center in Los Angeles. Jackie aka Miss Funk has gained respect by entering and judging several prestigious battle events, such as, All Styles Judge for Freestyle Session Los Angeles 2015, 2018 & 2021; Popping Judge for Ladies of Hip-hop NYC 2015; Crew Champions with Versa-Style Dance Company - The Week Hip-hop International Dance Festival in Italy 2016

Du'Ron Fisher (DeFacto X) is a Texas-born multi-disciplinary artist who showed interest in writing poetry, dancing, and composing songs at an early age. After moving to Los Angeles, he decided to take his love of the arts seriously by starting his professional dance training at the prominent Lula Washington Dance Theatre, West Los Angeles College and the historic American ballet school, Dance Theatre of Harlem. As a dancer, he has worked with numerous Los Angeles-based dance companies, including Maura Townsend's Project 21, Mix eMotions lead by Janet Roston and Bernard Brown's BBmoves. He has also performed in various stage plays and dance festivals in the greater Los Angeles area, San Francisco, Paris, France, and Casablanca, Morocco. While pursuing his dance career, DeFacto X actively studied music theory, eventually graduating from The Los Angeles Film School with an Associates of Science in Music Production. Since then, he has produced for local independent artists and has worked as a residential composer for choreographer Bernard Brown for numerous multimedia projects including 2019's Processing Sugar at the Highways Performing Arts Center. He has released various musical projects including his debut, The Darkest Hour, 2016, and Project X, 2021. DeFacto X is continuing to release various audiovisual projects and is actively adding to his artistic reservoir.

Creighton Baxter researches spectral dimensions of touch, eroticism, and transsexual experience through an interdisciplinary practice. At the root of her process, drawing pulses across hinged disciplines, including performance and poetry. Her recent work collages the medical detritus of illness with autobiographical experiences of torture, and the religious imagery which populated her experiences of sexual violence in the Catholic Church. Alongside her individual practice, Baxter has an extensive network of collaborators across fields of virtual reality, dance, film, and painting. A slow transsexual time visibilizes across her projects, repeating with sensual difference. Baxter's work has been shown in New York, Los Angeles, Boston, Berlin, and Belfast. She has participated in exhibitions and festivals at Boston University, Tom of Finland Foundation, Villa Victoria Center for the Arts, Visual Arts Center at UT Austin, and Mainsite Contemporary. Her artworks have appeared in The New Inquiry, Guts Magazine, Art Papers, Rhizome, Big Red & Shiny, and Boston Art Review. Baxter received her BFA from the School of the Museum of Fine Arts Boston in 2013 and will begin the pursuit of her MFA in Painting/Printmaking this fall at Yale School of Art.

Estrellx Supernova (they/them) is a queer, non-binary AfroIndigenous choreographer, performer, and healer whose roots extend into Guatemala/Belize, Angola, Portugal/Spain, and other diasporas. Estrellx is the Founder/Cosmic Energetic Orchestrator of an entrepreneurial and emergent ecosystem called Estrellx Supernova & The Cosmic Angels / The School(s) of Tenderness. Estrellx Supernova focuses on their solo choreographic work, The Cosmic Angels takes the form of a remixed dance company/choreographic healing collective, and The School(s) of Tenderness will be a network of (13) schools / global hive sites located near energetic Earth chakras/vortexes run by and for Black, Indigenous, Queer, Trans, & Allied Creatives & Intuitive Leaders, with the first site in California. Estrellx loves getting messy by conjuring choreographic rituals within quotidian, natural, subliminal, and imaginary landscapes. Their performances are templates for reclaiming, re-membering, and rewiring patterns and ancestral wisdom in service of engendering new systems, behaviors, temporalities, and paradigms. Estrellx frames choreography as embodied excavation, as an intimate practice that opens up portals towards giving oneself radical permission to dissent, celebrate, grieve, and rest. Their choreographic praxis implements eco-drag, improvisation, and a practice called EDGING, which is all about lusciously giving one's body what it needs over and over again. Estrellx has been awarded an upcoming Djerassi Residency, a 2020 San Francisco Arts Commission Individual Artist Grant, and a 2020 Creative Capital Award for their long-term project EncuentrX 33: Queer Neurocognitive Architectures Hidden in Plain Site(s), which is a major milestone in bringing their aforementioned vision to life. Additionally, Estrellx is a part of NET/TEN's Create + Change Cycle, Los Angeles Performance Practice's CONCENTRATE & ACCELERATOR programs, New York Foundation for the Art's Leaders of Color Tri-State Area Incubator, that are expanding their professional networks and leadership skills. Estrellx self-designed a B.A. in Dance & Performance Studies at Williams College, where they integrated international choreographic training via Tanzfabrik Berlin, and completed an exchange semester at Bennington College. In the midst of it all, Estrellx is resting, bending time, reflecting, listening to the Wind-Earth-Water for how to simplify, grow, scale, slow down.

Shauna Davis is a dancer, choreographer, and filmmaker based in Los Angeles and originally from Weston, Florida. Since moving to LA in 2017, She has worked with No)one. Art House, Ezralow Dance, Ate9 Dance Company, and with artists such as Kanye West, Olivia Rodrigo, Snoop Dogg, Shawn Mendes and Jarina De Marco, among others. She has performed the works of Robert Battle, Ohad Naharin, Chris Emile, Bill T. Jones, and Gustavo Ramirez Sansano. Influenced by history and the fantasy of the future, Shauna aims to create cinematic and storied movement experiences. She has created for Avant Chamber Ballet, Dallas Black Dance Theatre, Opera Omaha, and the LA Chamber Orchestra. In 2020, She was named a Resident Artist with La MaMa Experimental Theatre Club for the 20/21 Season. Currently, Shauna's debut short film, BLACK.ECO is on view on the Netflix Invisible Frame Billboard on the Sunset Strip. Commissioned by the City of West Hollywood, BLACK.ECO runs at the top of every hour at 8743 Sunset Boulevard from February 2- May 31, 2022. She is a graduate of New World School of the Arts High School and Southern Methodist University.

Michelle Sui is a Chinese-born, Los Angeles-raised multidisciplinary artist, performer, and filmmaker. Her immersive multimedia works have been presented in Germany, Italy, the Republic of Georgia, and throughout the U.S. Her work exists at the intersection of dance, vocal music, and film and draws upon notions of the body in relation to geography, language, translation, and the performance of femininity. Her ongoing research and performance in embodied vocal music and women's folk music traditions have taken her to Eastern Europe, the Caucasus, Turkey, China, and American Appalachia. Michelle has performed at venues such as MOCA, Hammer Museum, Marciano Art Foundation, REDCAT, LA Music Center, Rubin Museum of Art, Brooklyn Academy of Music, and Park Avenue Armory. Her work has received support from the Foundation of Contemporary Arts, California Arts Council, Center for Asian American Media, Sundance, La MaMa, Poets and Writers, and the Leslie Scalapino Award for Innovative Women Performance Writers. She is the founder of Nü House, a media platform that facilitates conversations across borders and connects diverse artists and communities through documentary projects. www.michellesui.com @michelle.sui

Yunuen Rhi (we/they) is a Xicanx-Korean non-binary wellness coach, performance artist and applied anthropologist. We have cultivated ourselves in eastern, western, and native medicine pathways as a conscious response to fragmentation. Baguazhang internal martial arts has been our main discipline for more than a decade. Our performance art is social practice; it incorporates ritual, martial and psychomagic elements. Our work intends to build radical and tender community ties.

Wonmi's WAREHOUSE Programs is organized by Alex Sloane, Associate Curator of Performance and Programs, with Amber Dettmers, Production Manager, and Brian Dang, Programming Coordinator.

Wonmi's WAREHOUSE Programs is founded by Wonmi & Kihong Kwon and Family.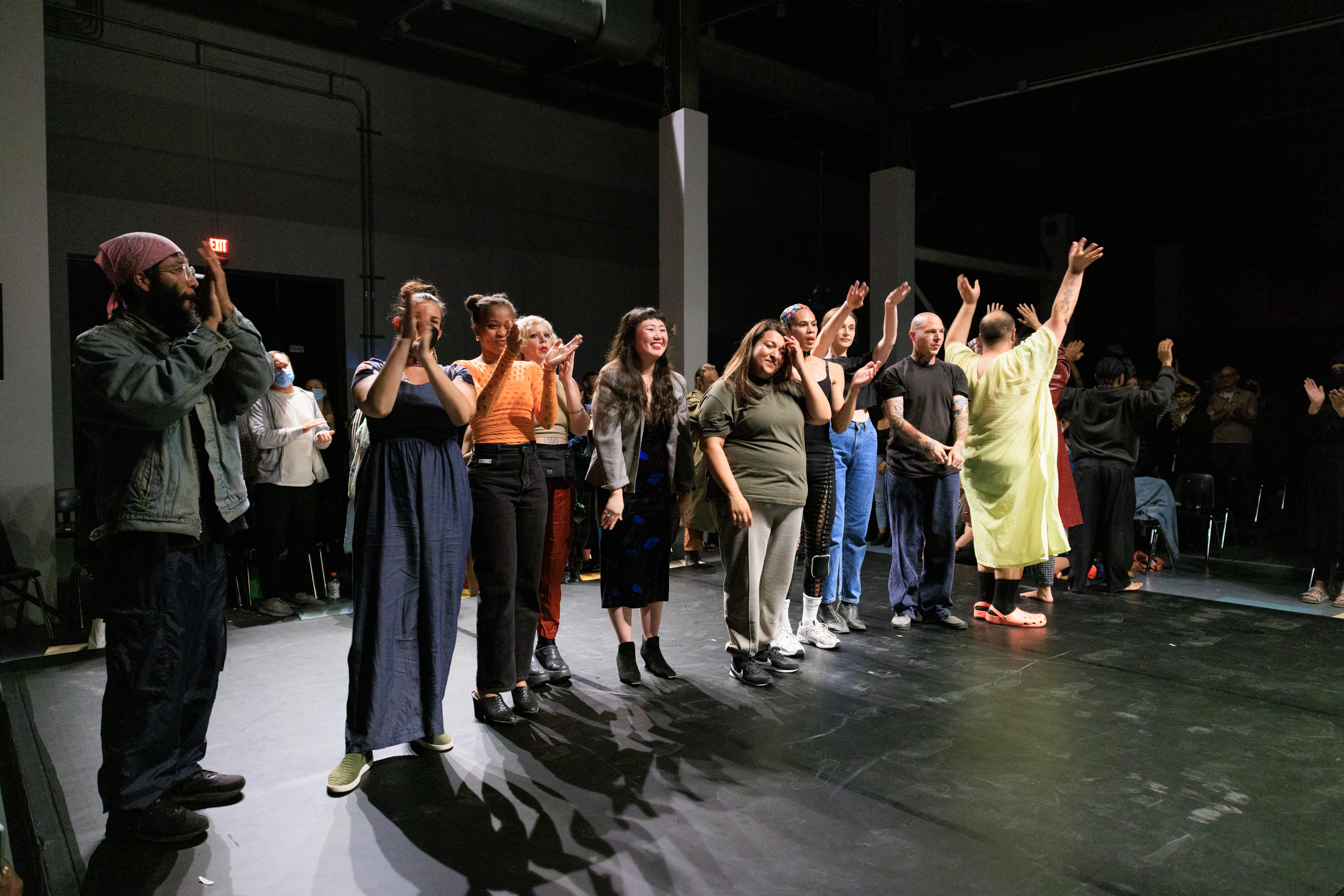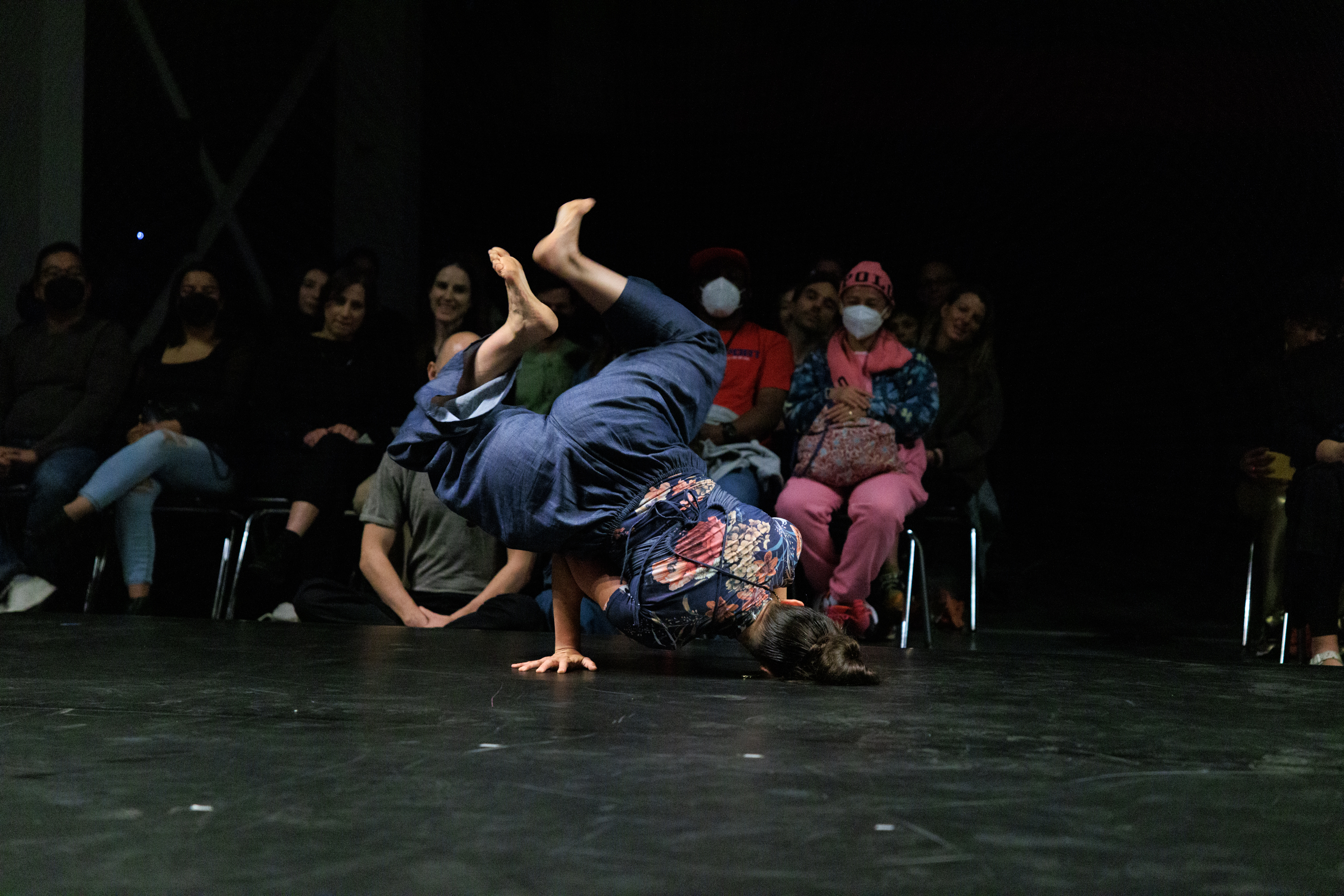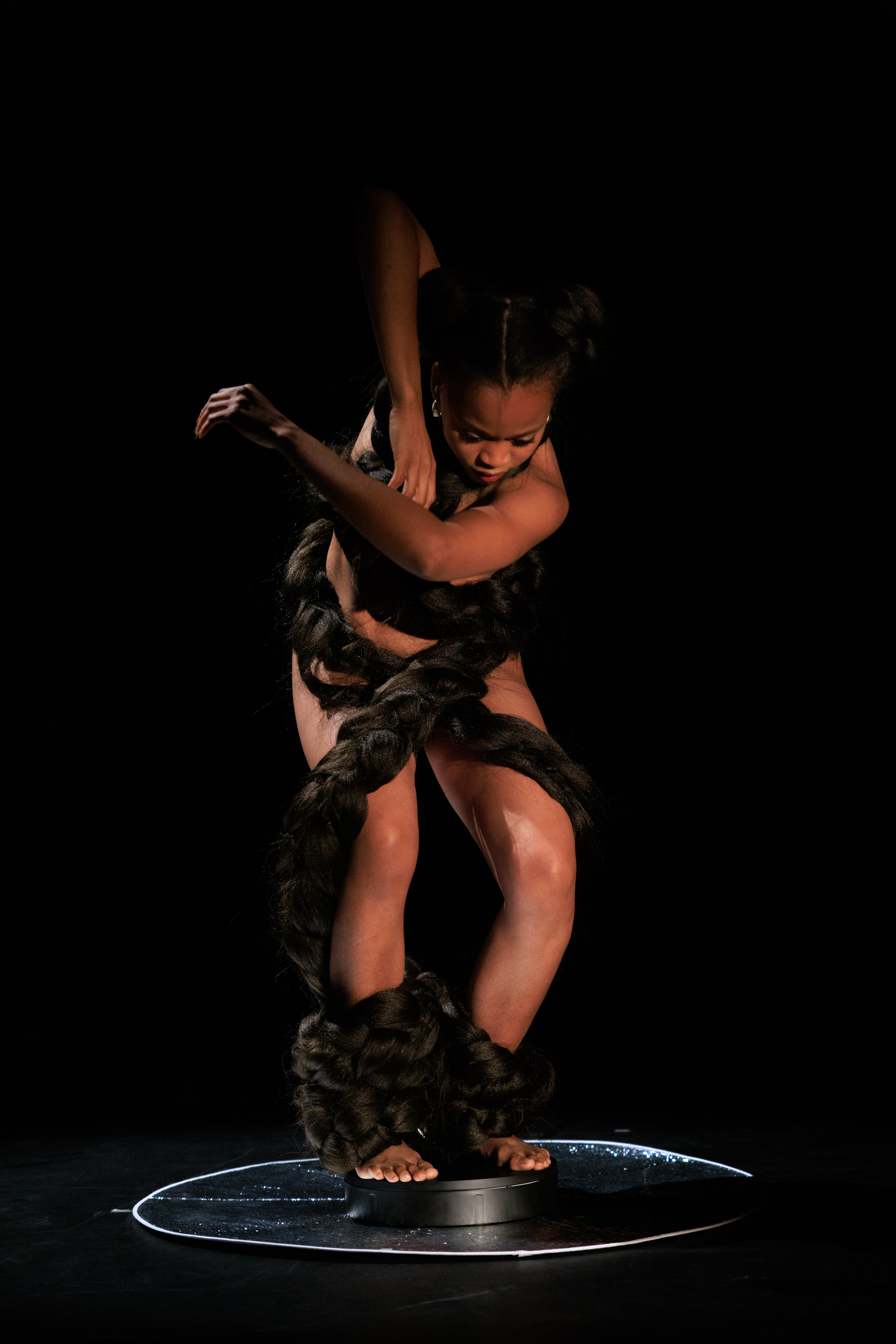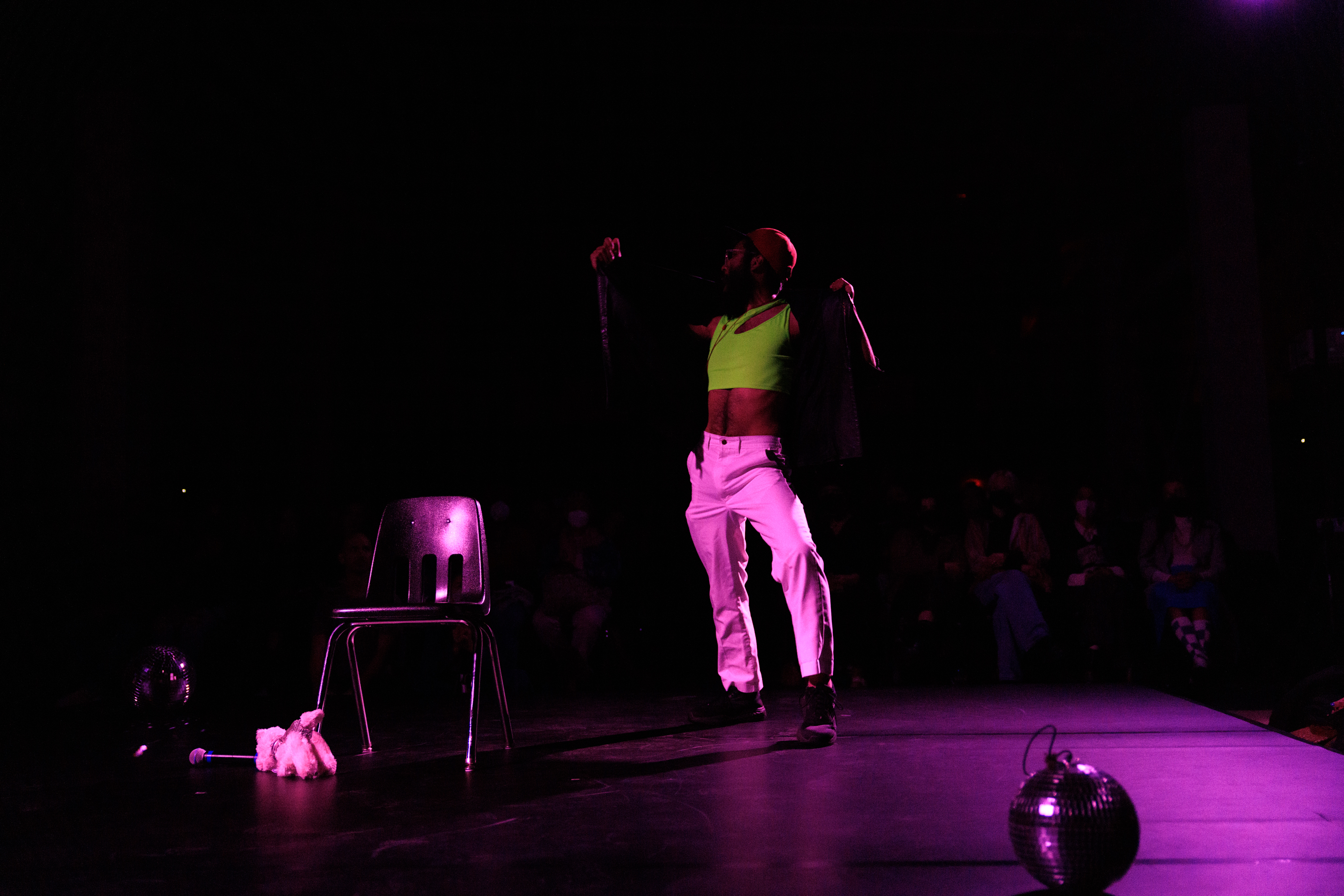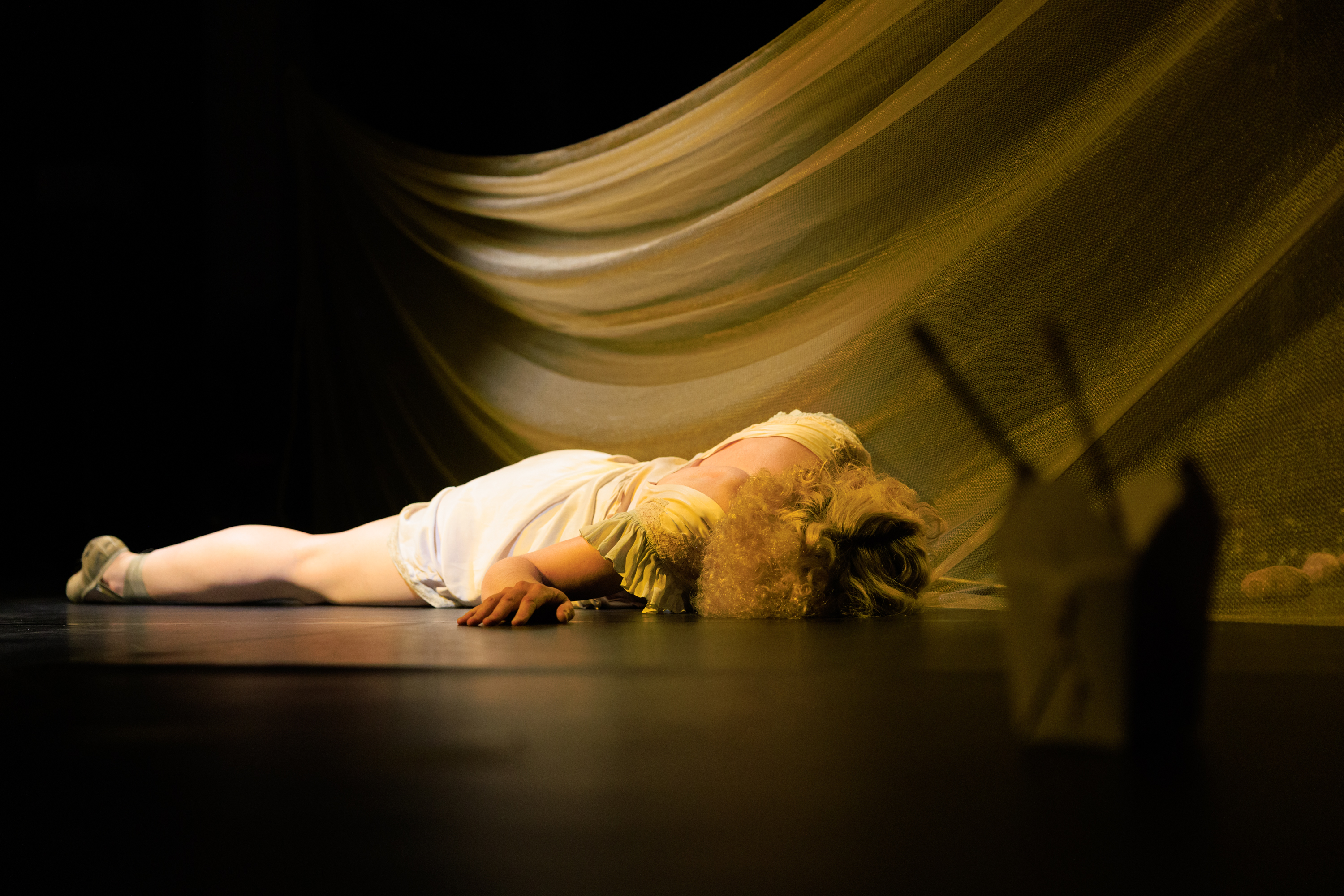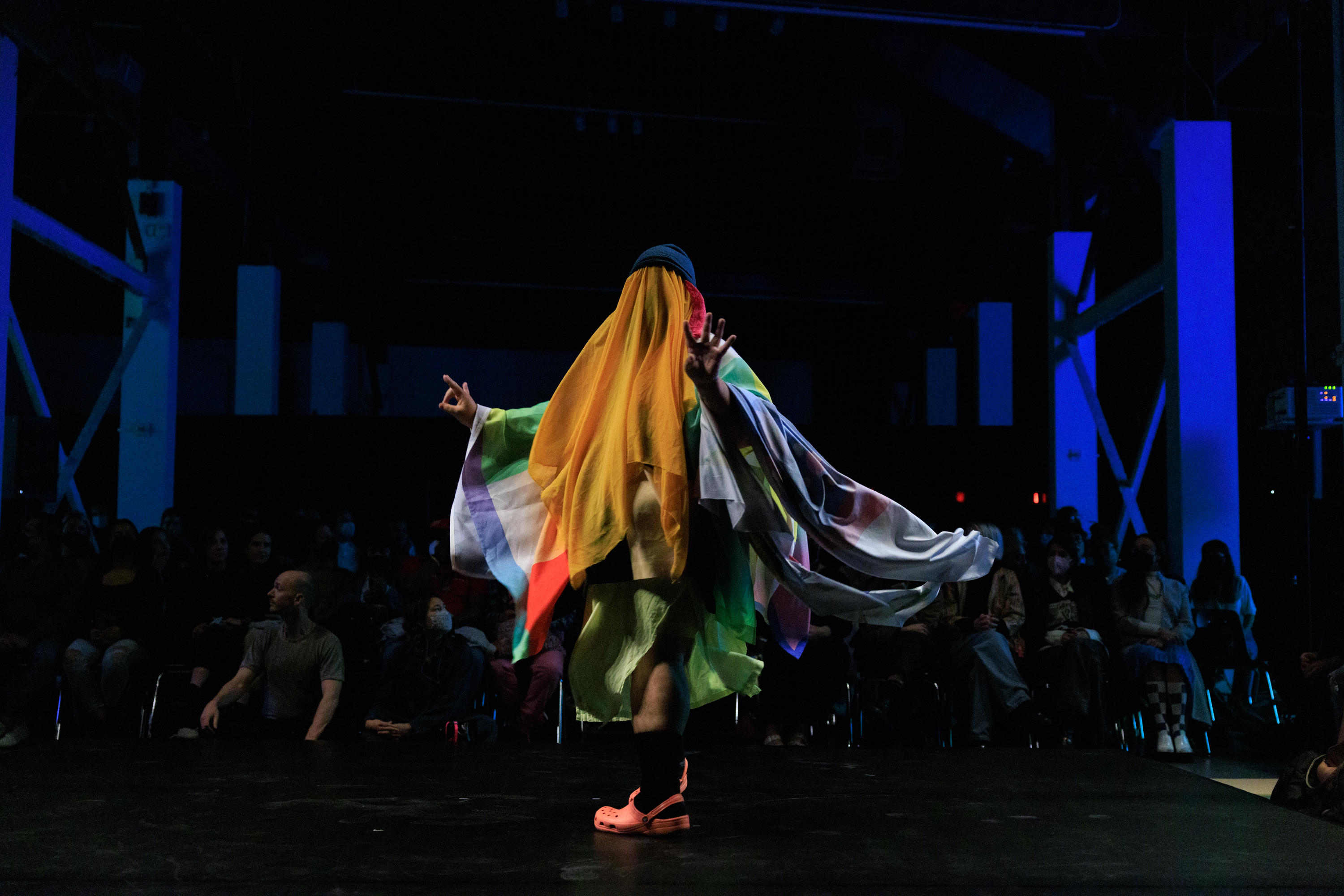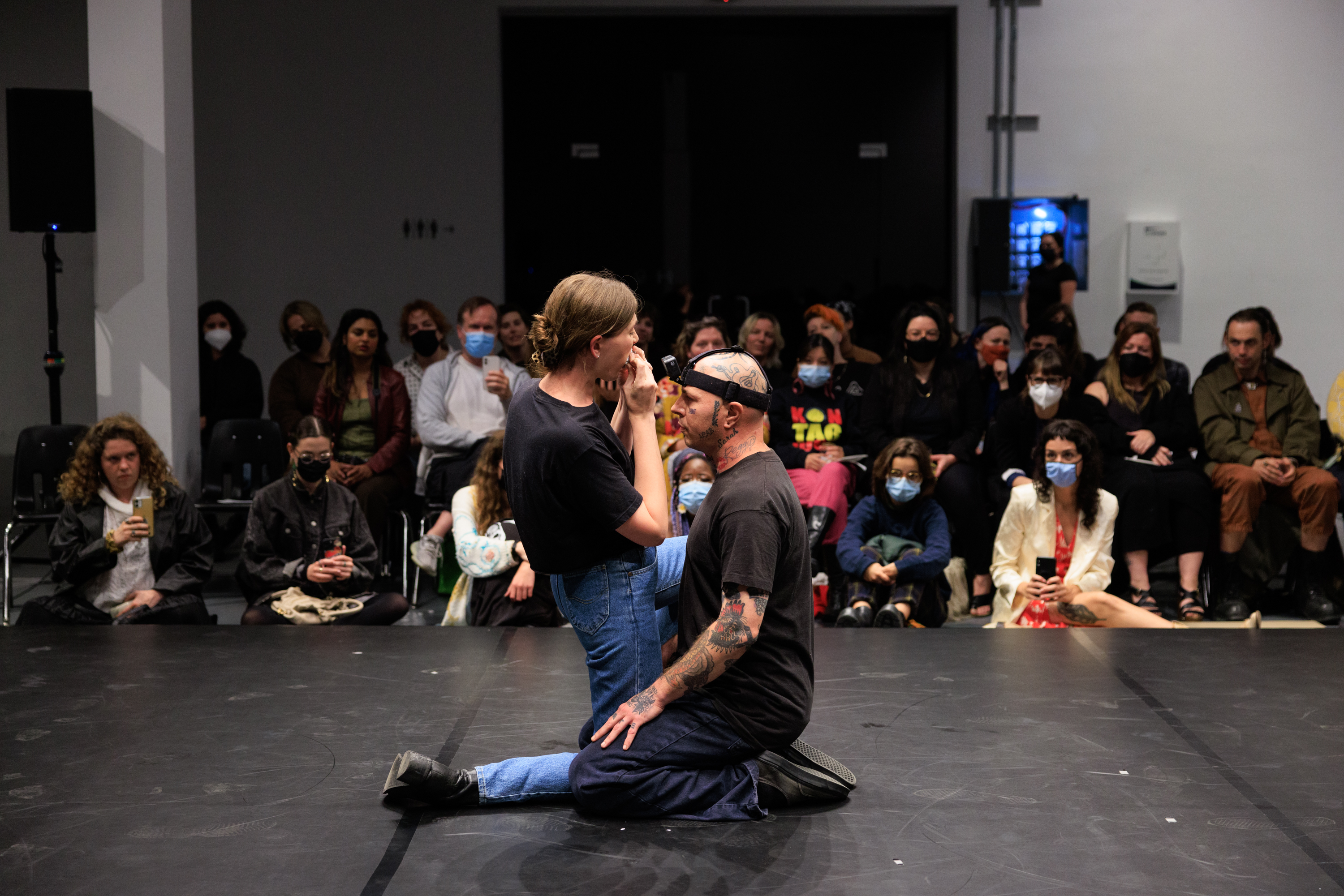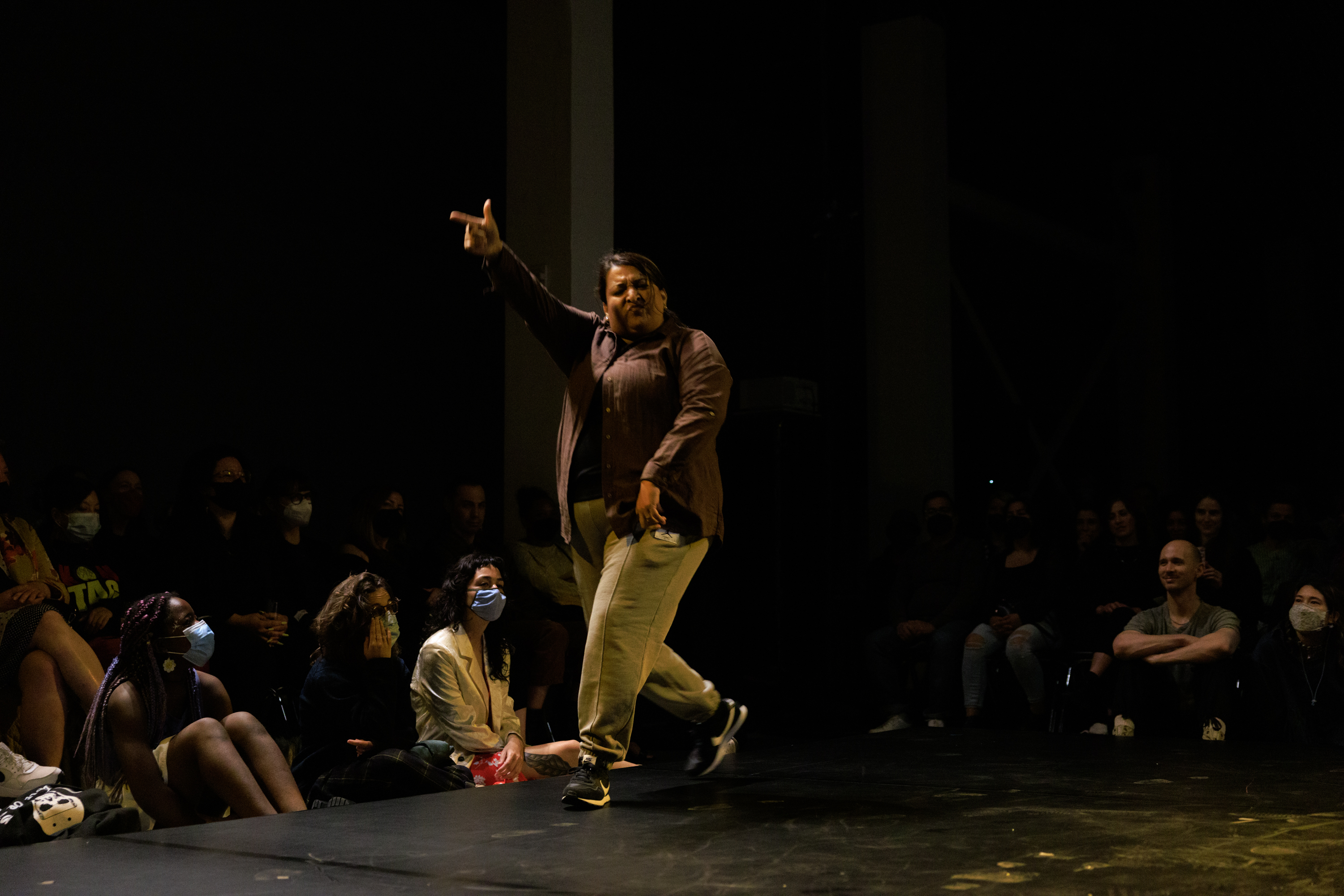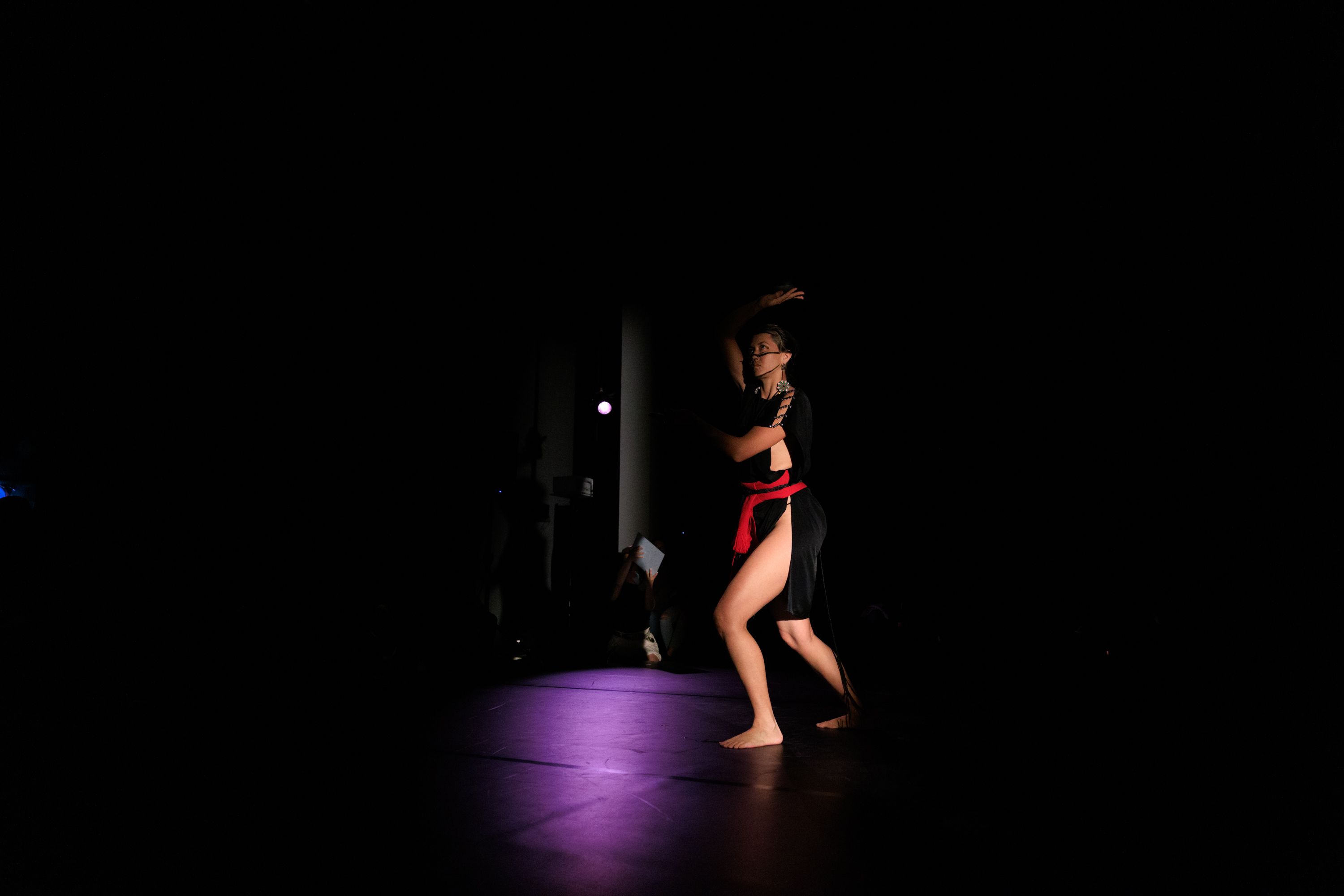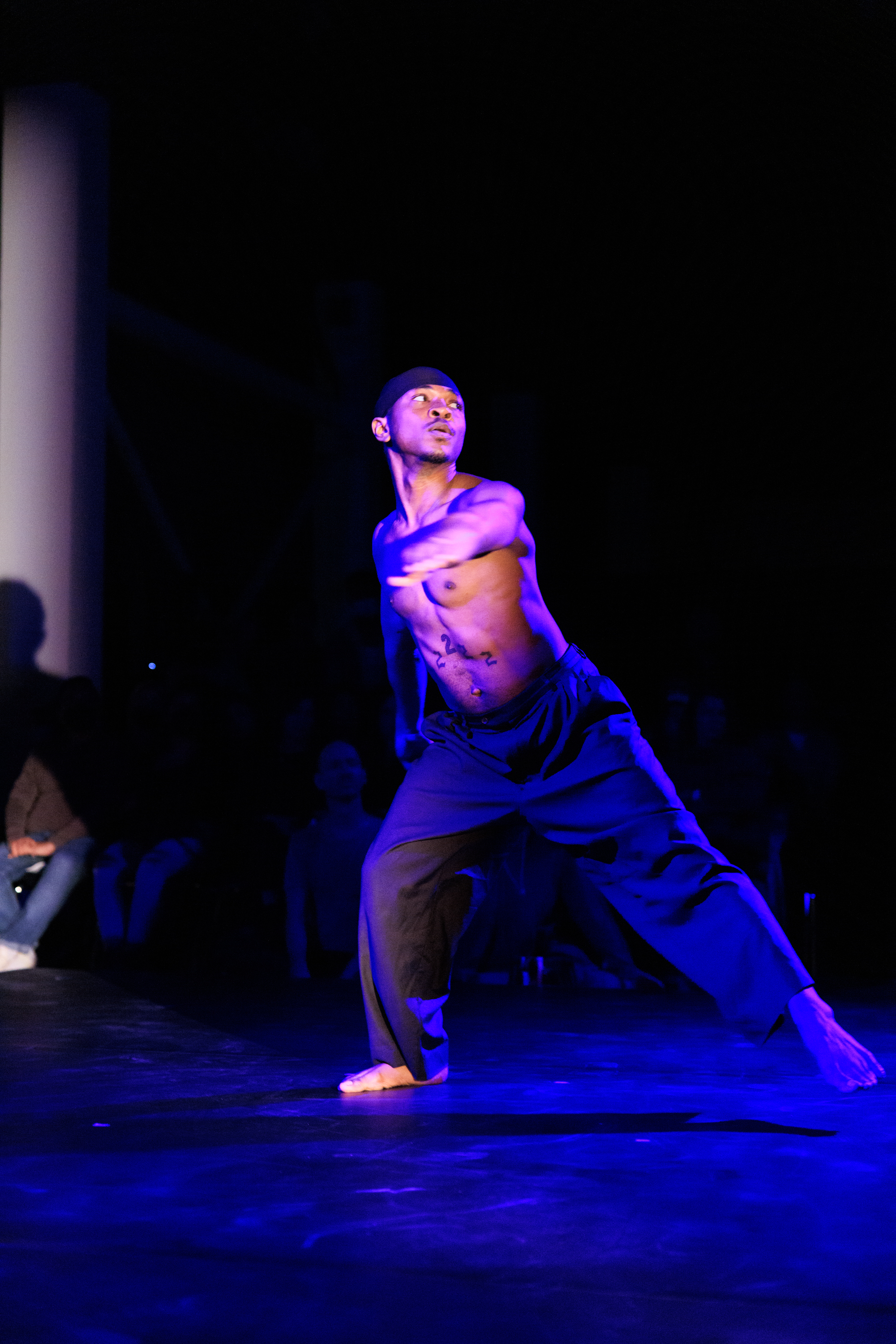 HI, SOLO #11 Organized with Alexsa Durrans and Miles Brenninkmeijer presented by The Museum of Contemporary Art (MOCA), May 20, 2022, at The Geffen Contemporary at MOCA. Photos by Elon Schoenholz.