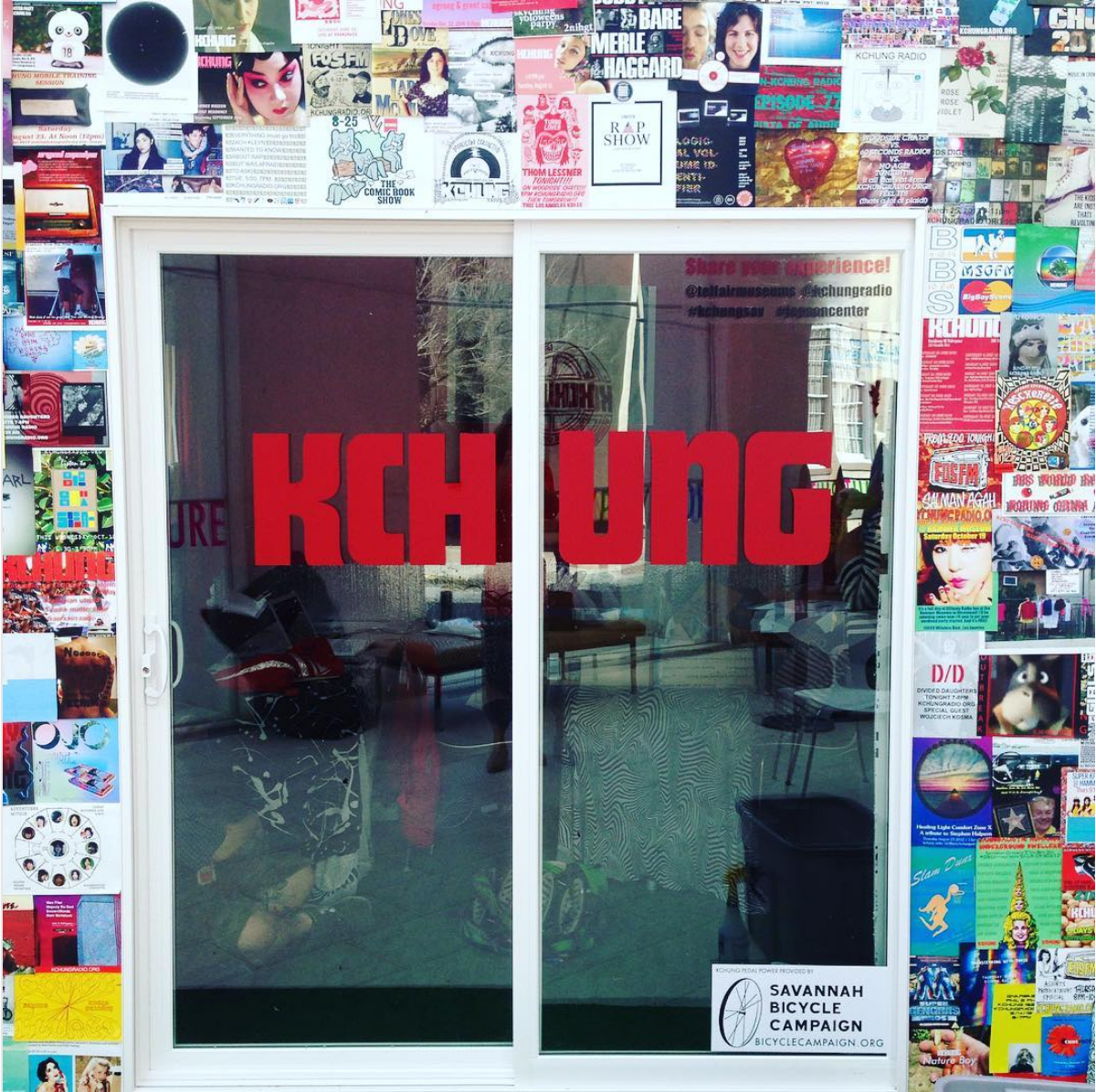 KCHUNG Radio's KCHUNG PUBLIC, comes to The Geffen Contemporary at MOCA with a dynamic model of alternative media exploration, site observation, beautiful action, and torrential community radio. In conjunction with KCHUNG Radio's year-long residency at MOCA, KCHUNG PUBLIC will be the Chinatown-based Internet radio station's first public location, situated in a bright red, custom retrofitted, shipping container turned AM radio station.
Broadcasting live from MOCA, KCHUNG PUBLIC gives greater Los Angeles access to co-operative community radio, including musical performances, theatrical didactics, radio plays, town halls, esoteric sybilline salons, pyrite radios, turntable Einstein–Rosen bridges, interspecies talk shows, and neighborhood journalists. KCHUNG PUBLIC will burrow deep into the broader LA community, encouraging active participation in the creation of new cultural mythologies and matter.
LISTEN TO LIVE STREAM HERE
Live Performance and Programming Schedule
Fall Open House
Saturday, September 10, 2022
4pm-7pm
KCHUNG PUBLIC launches with a live performance by CAMINA, interactive discussion with Revolutionary Autonomous Communities LA and Mutual Aid Action Los Angeles, and sets from KCHUNG DJs, La Cosecha Internacional, and Zuri Adia.
KCHUNG PUBLIC: Witches & Witch Hunts: A Salon.
Saturday, October 8, 2022
4pm-7pm
A salon featuring Anuradha Vikram, Mashinka Firunts Hakopian, Sanyu Estelle, Amanda Yates Garcia, Peter Simensky, and others.
KCHUNG PUBLIC: Comment
Saturday, November 12, 2022
12pm-6pm
PUBLIC Comment is a podium and mic connected broadcasting just within range of Los Angeles City Hall, allowing the public to amplify their comments towards city hall, bypassing the bureaucratic structures that prevent and problematize representative democracy.

KCHUNG PUBLIC: CareA Radio Play Festival
Saturday, January 21, 2023
2pm-6pm
KCHUNG PUBLIC: Care is a daylong radio play festival which explores artists who both are caregivers and those who receive caregiving. The festival will feature new shortform plays commissioned by KCHUNG Radio as part of their ongoing residency at MOCA.

KCHUNG PUBLIC: Love SongFeaturing Chief Adjuah formerly Christian Scott and WyldeflowerPerformances by Alan Nakagawa and Kim Zumpfe
Saturday, February 25, 2023
4pm-7pm
Featuring four artists with close links to KCHUNG Radio, the program opens with the premiere of Point of Turn, a new voice-based sound work by Alan Nakagawa followed by Now then. A slow seizure that casts amber residue, a sound performance created with chairs collected from the streets of Los Angeles by Kim Zumpfe.
This expansive celebration of love and sound continues with a live set from LA-based DJ Wyldeflower before concluding with a very special performance from American cultural leader, jazz innovator, and musical pioneer Chief Adjuah, formerly Christian Scott, and his ensemble.

KCHUNG PUBLIC: Intelligence
Saturday, March 11, 2023
2pm-6pm
KCHUNG PUBLIC delves into the etymology and epistemology of human and non-human "intelligence". The afternoon will feature sonic sculptures, interactive installations, and durational performances from artists with deep ties to the KCHUNG Radio community including Artzenkraft, Alejandra Herrera Silva, Haleigh Nickerson, Nicholas Philips, and Kim Ye.

KCHUNG PUBLIC: Growth
Saturday, April 22, 2023
2pm-6pm
KCHUNG PUBLIC presents an Earth Day Plant Sale organized by local artist and garden designer Alika Cooper. The afternoon will also feature seed bomb workshops led by KCHUNG's christy roberts berkowitz (The California Poppy Project) and a DJ set from George Jenson.

KCHUNG PUBLIC: Labor
Saturday, May 13, 2023
2pm-6pm
Los Angeles Artists Union, founded in 2011, was a 3 year project that sought to reimagine compensation, equity, and mutual aid in the Los Angeles art industry and beyond. On May 13th, 2023 KCHUNG (also founded in 2011) invites the public to the Geffen Contemporary at MOCA for an afternoon of performances, installations, and publications that probe visitors to think about the relationship between artists, art workers, and labor movements and how it has evolved in the last 12 years. Participants include Artzenkraft, Alejandra Herrera Silva with Trinidad McMurry Herrera, Llano del Rio Collective, Alan Nakagawa, Haleigh Nickerson, Nicholas Phillips, Kim Ye, and Kim Zumfe.

KCHUNG PUBLIC: Movement
Saturday, June 20, 2023
4pm-8pm
Inspired by the community networks of club culture, KCHUNG's MOVEMENT explores embodied forms of care, resistance, and liberation through dance and nourishment. KCHUNG DJs Marielle Jade Te, Ray.ONLY, Dean Buckley, and Zuri Adia will keep us moving from 4-8PM in the Aileen Getty Plaza at the Geffen Contemporary at MOCA. Non-alcoholic juices and elixirs courtesy of Queen Morelife or More Life Liquid, food trucks, and more will be available to keep us hydrated and feeling good.

MORE PROGRAMMING TBA

Self-governed and operated on a shoestring budget, KCHUNG Radio was formed in 2011 as an open forum of artists, musicians, writers, and philosophers. Broadcasting live on 1630 AM from a studio-in-the-sky above a pho restaurant in Los Angeles' Chinatown, KCHUNG Radio stands apart from other local LA-based stations in its programmatically evolving nature: currently broadcasting over 40 hours weekly of original & uncensored content. With the intention to platform traditionally underrepresented voices, there are talk shows, art reviews, interviews with psychics, scientists, plant life, and ghosts, live music, dressing room gossip, surrealist meditation lessons, advice panels, and unscripted gestures of an economic or performative nature. Functioning as a framework for the expression of local artists as individual contributors, the station is an open portal, accessible to any and all interested parties. It celebrates and promotes the efforts of the dedicated amateur while remaining an autonomous entity for collective expression.

KCHUNG Public is made possible with support from Emily Hall Tremaine Foundation (EHTF)



Wonmi's WAREHOUSE Programs is organized by Alex Sloane, Associate Curator, with Amelia Charter, Producer of Performance and Programs, Brian Dang, Programming Coordinator, and Michele Huizar, Programming Assistant.

Wonmi's WAREHOUSE Programs is founded by Wonmi & Kihong Kwon and Family.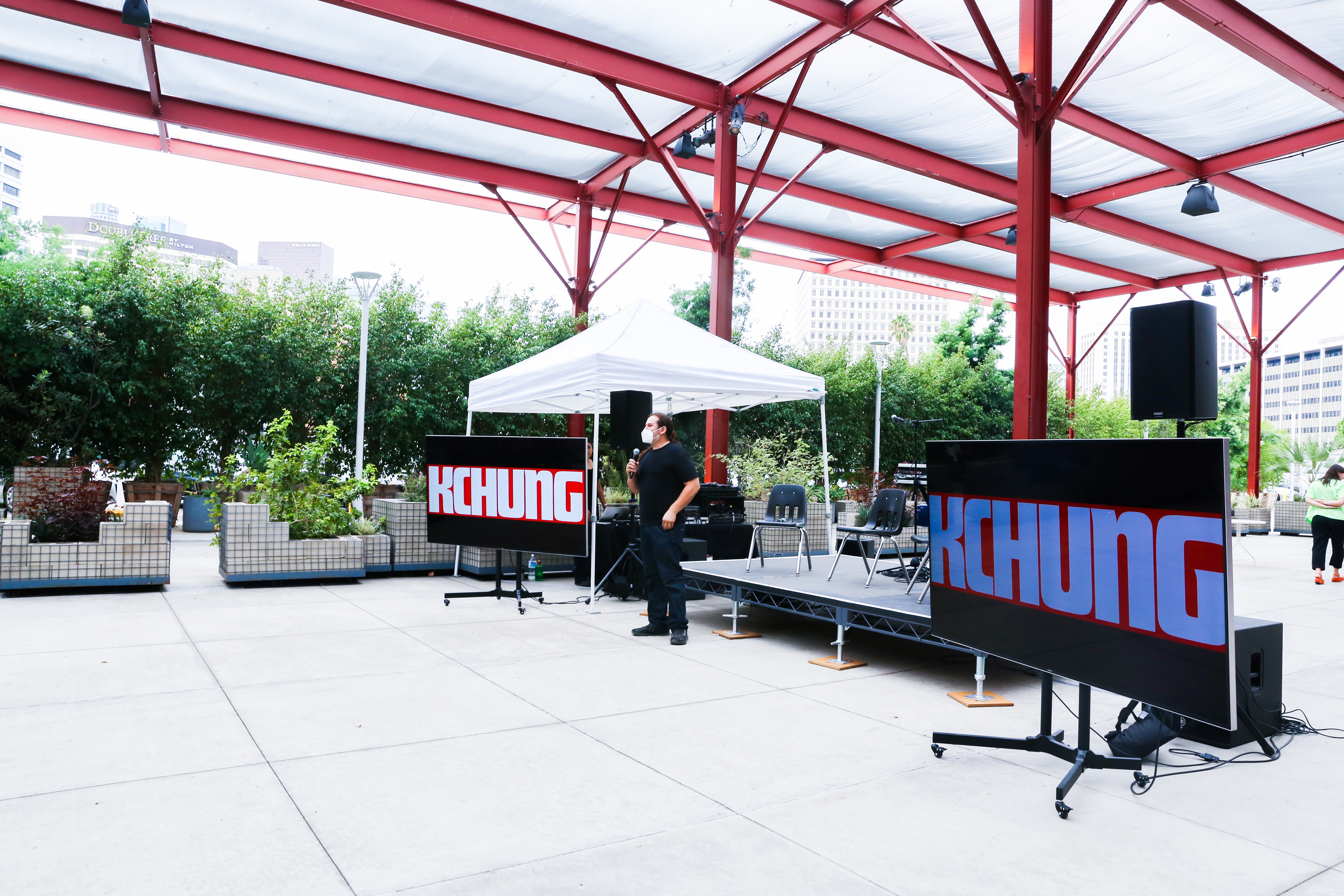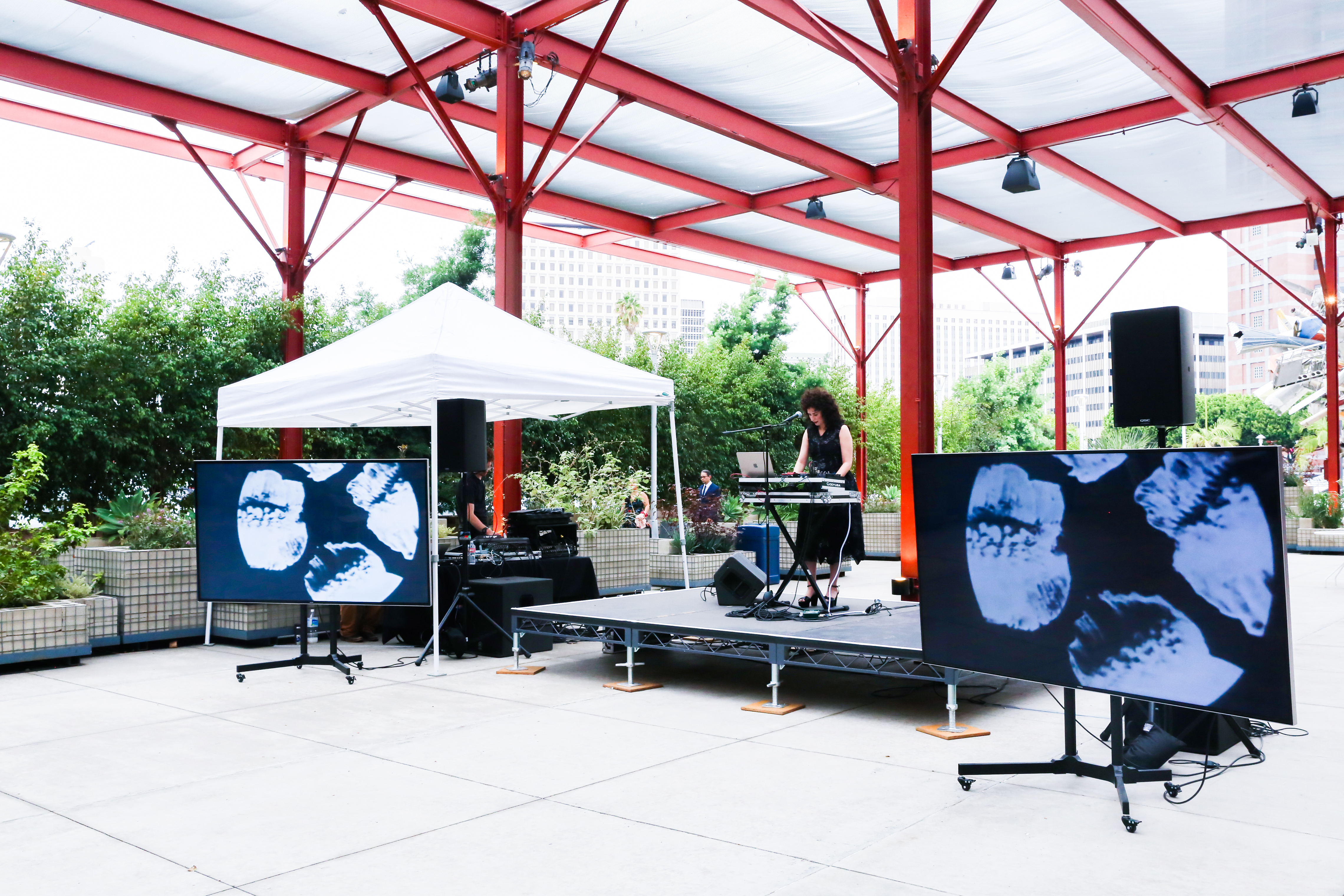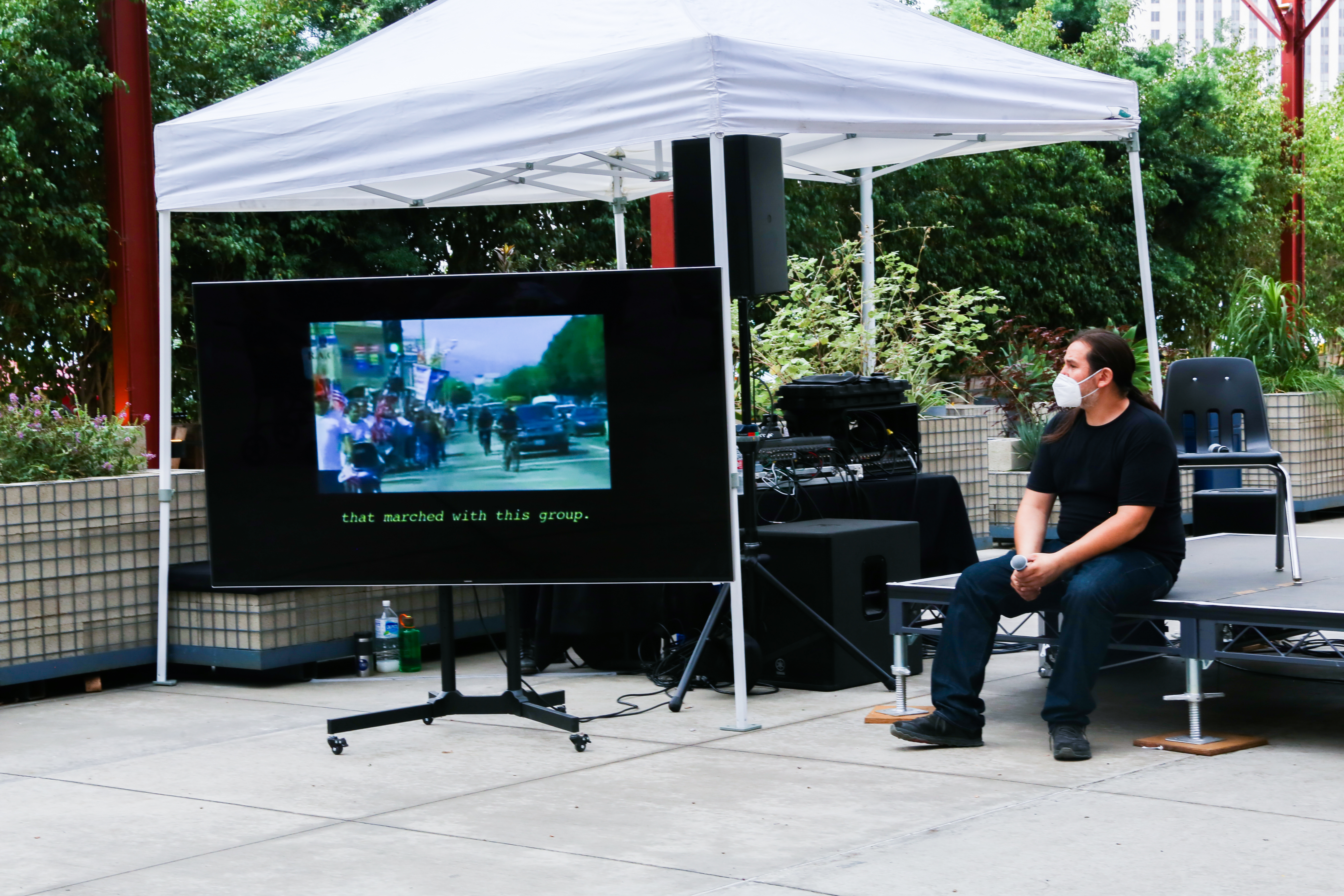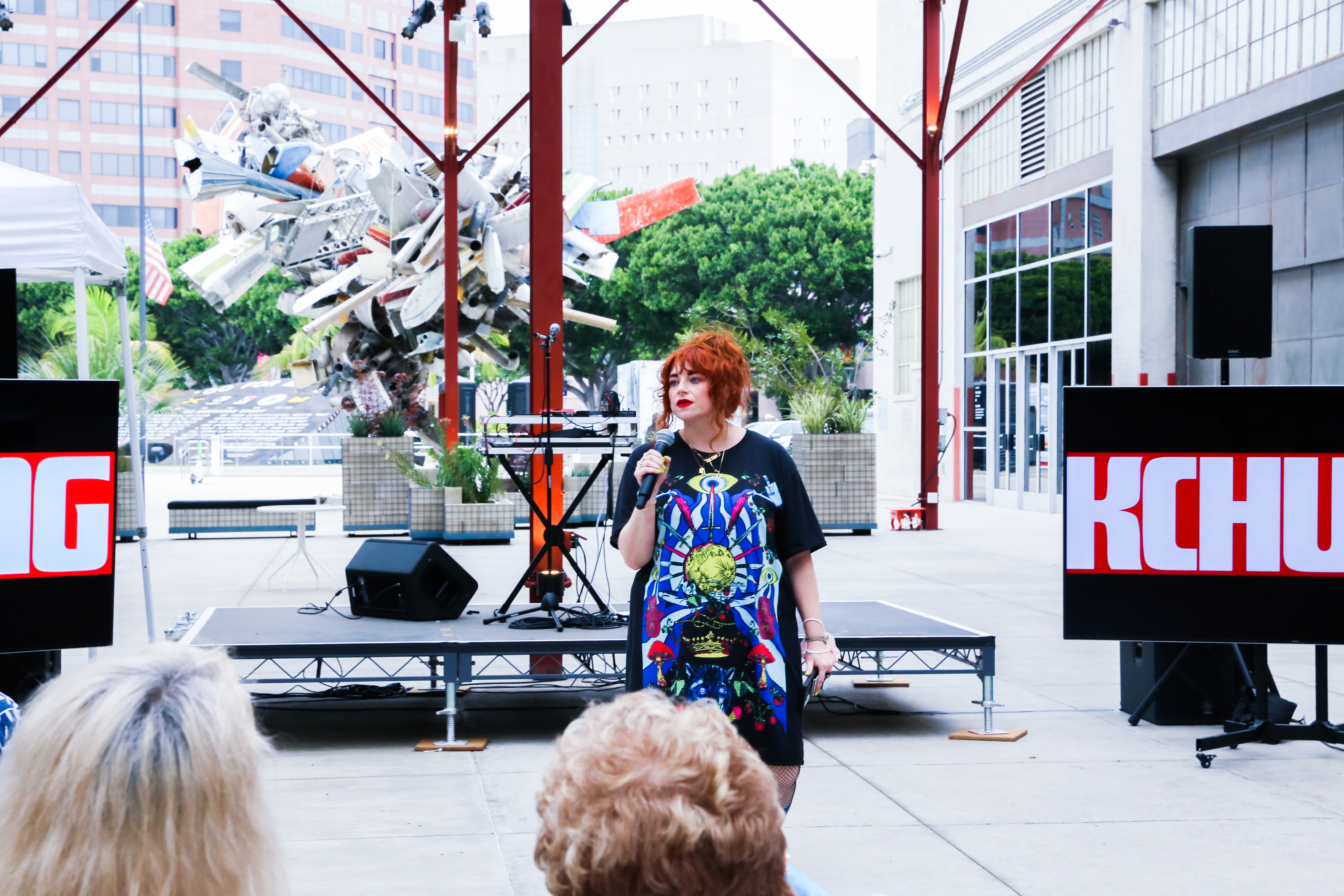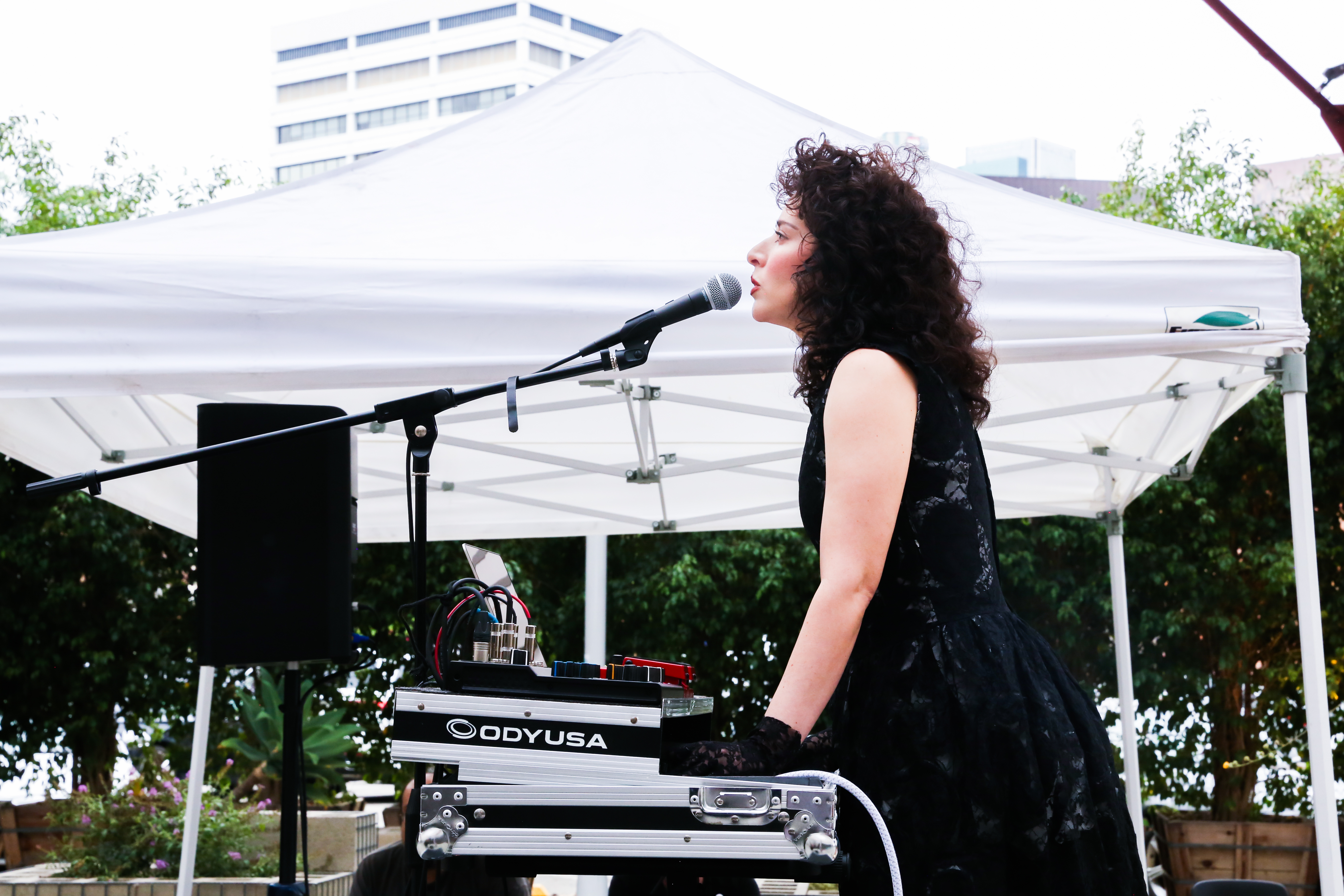 KCHUNG PUBLIC presented by The Museum of Contemporary Art (MOCA), at The Geffen Contemporary at MOCA. Photos by Melania Espinal/ Las Fotos Project.