In 2022, The Museum of Contemporary Art (MOCA) added 123 works by 68 artists to its acclaimed collection, which now numbers nearly 8,000 artworks. The acquisitions reflect a diverse group of artists, including many from Los Angeles.

"MOCA's collection is widely renowned for good reason. For more than 40 years, the museum has cared for and grown one of the most singular, ambitious, and fearless collections of contemporary art in the world," said Johanna Burton, The Maurice Marciano Director of MOCA. "Thanks to our talented curators and generous supporters, we have acquired a spectacular group of works over the last twelve months, many of them challenging, and made by artists of diverse backgrounds. In keeping with our DEI&A goals, I'm proud that these acquisitions reflect our commitment to supporting BIPOC, women, and gender-non-conforming artists, and that MOCA has the great privilege of caring for and sharing these works with our community and the world."

The first year of Burton's directorship at MOCA saw acquisitions of great range that not only demonstrate the institution's dedication to defining and redefining contemporary art, but also the extraordinary generosity and continued engagement of MOCA Trustees and supporters, both long-time and recent.

"At MOCA, our collection reflects our identity as an internationally-minded institution that is rooted in the tremendously important Los Angeles artistic community," said Clara Kim, MOCA Chief Curator & Director of Curatorial Affairs. "These recently acquired works speak to our DNA as a forward-thinking museum that represents and supports artists of our time."

MOCA is renowned for its extensive holdings of work by Los Angeles artists. The year 2022 saw the museum grow in this collecting area, notably across many different media, historical moments, and artist demographics. The addition of John Valadez's East Los Angeles Urban Portrait Portfolio, a series of twenty photographs from 1978, expands MOCA's representation of work by Chicano and Latinx artists, as does the acquisition of Joey Terrill's large-scale collage My First Crush from 1993. Meanwhile, Bombs, 1983, an altar-piece-like arrangement of 24 painted panels by longtime Los Angeles artist Ben Sakoguchi, tells a still-relevant story of nuclear war and its impact on Japanese life, both in Japan and in the United States.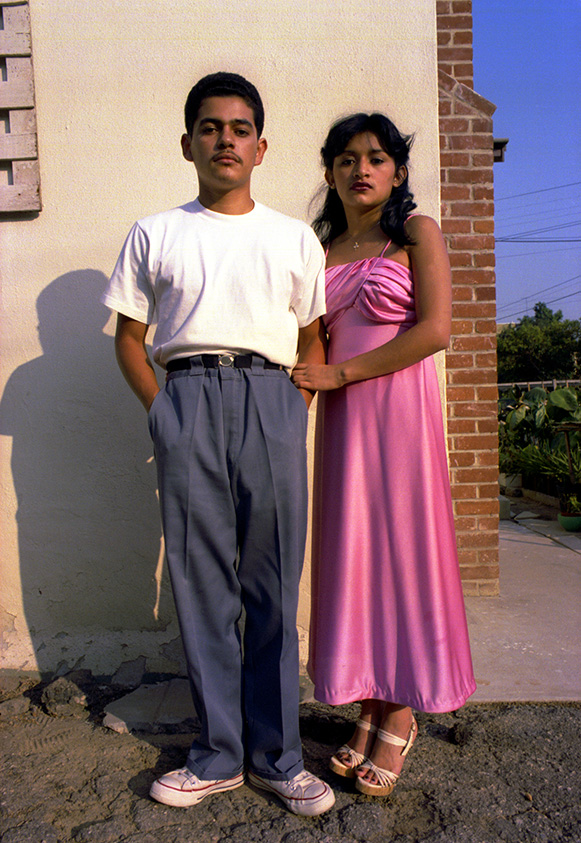 John Valadez, Couple Balam, c. 1978, printed 2022, Fujicolor Crystal Archive print, 24 × 16 in. (60.96 × 40.64 cm). The Museum of Contemporary Art, Los Angeles. Purchase with funds provided by the Drawings and Photography Committee.

These works are joined by examples from a wide variety of other Los Angeles artists, among them: Doug Aitken, Kelly Akashi, John Baldessari, Andrea Bowers, Kenturah Davis, John Duff, Shepard Fairey, Christina Forrer, Jessie Homer French, Jack Goldstein, Sayre Gomez, Ken Gonzales-Day, Jennifer Guidi, Naotaka Hiro, Mike Kelley, Barbara Kruger, Daniel Joseph Martinez, Mundo Meza, Jesse Mockrin, Dave Muller, Catherine Opie, Lauren Quin, Sterling Ruby, Jim Shaw, Kaari Upson, James Welling, Kandis Williams, Rosha Yaghmai, Nancy Youdelman, and Andrea Zittel.

Another focus of MOCA's 2022 acquisitions was large-scale sculpture and installation, historically a strong collecting area for MOCA. Major works by Rachel Harrison, Nairy Baghramian, and Hadi Fallahpisheh were acquired in 2022. Hot Topic Two, 2022, by the New York-based Harrison creates a room-enveloping tangle of parachute cords, grappling hooks, internet news print-outs, LED party lights, and other objects representative of those brought by rioters to the January 6, 2021, insurrection at the U.S. Capitol. Iran-born, Berlin-based Baghramian enters MOCA's collection with the sculpture Slip of the Tongue, 2015, which moves elegantly between biomorphic abstraction and self-reflexive commentary on museological display. And Iran-born, New York-based Fallahpisheh, in his installation Young and Clueless, 2021, sends up repressive social relations in a brightly-colored assemblage of ceramic pots, stuffed animals, and a large camera-less photograph made using pen lights to draw on photosensitive paper.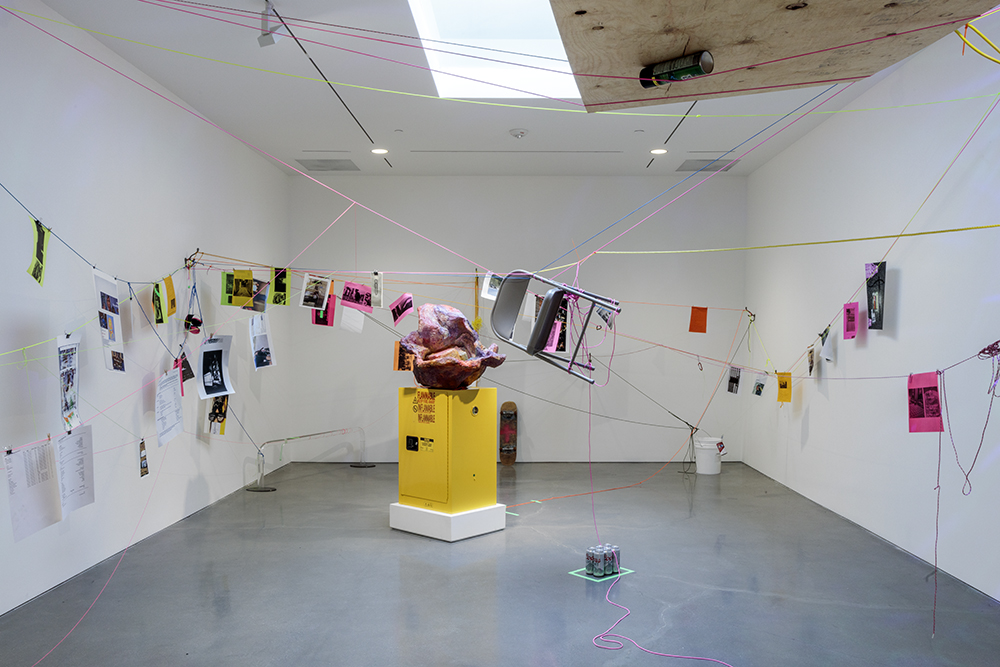 Rachel Harrison, Hot Topic Object, 2022, wood, styrofoam, chicken wire, cardboard, cement, acrylic, and metal Slimline Flammables Storage Cabinet, 71 1/2 × 29 × 26 1/2 in. (181.61 × 73.66 × 67.31 cm). The Museum of Contemporary Art, Los Angeles. Purchase with funds provided by the Acquisition and Collection Committee.

MOCA's 2022 acquisitions are comprised of purchases made by the museum and gifts accepted from donors. Donations of artwork from Trustees were especially significant this year, with multi-work gifts from MOCA Trustees Jennifer Hawks Djawadi, Maurice Marciano, Corinne Opman, Heather Podesta, Pete Scantland, and Chara Schreyer. Likewise, the Baghramian acquisition was supported by MOCA Trustee Kathi Cypres and her husband Gary; the acquisition of a Kelly Akashi sculpture was made possible by MOCA Trustee Cliff Einstein and his wife Mandy; significant gifts were also received from longtime MOCA supporters Alan Hergott and Curt Shepard; Margaret Morgan and Wesley Phoa; Eileen Harris Norton; and the Estate of Margo Leavin. Of special note was a major gift of over thirty works donated by Janelle Reiring and Helene Winer, co-founders of the iconic, recently closed, Metro Pictures gallery in New York. Including examples by Mike Kelley, Louise Lawler, Jim Shaw, and Cindy Sherman, among others, the gift extends MOCA's holdings from artists integral to the museum's exhibition history since the 1980s.

Additional donations of artworks were made by: Christine Meleo Bernstein; Sigrid Burton and Max Brennan; Jonathan Childs; Paula Cooper; Carol and John Finley; Walker and Amanda Guffey; Karen Hillenburg; David Hoberman; Jack Irmas; Craig and Lynn Jacobson; Marc Lee; Constance Mallinson; Olivia Marciano; Paul Marciano; the Meza Family; Patricia Navarro; Pace Gallery; James Park; Charlie Pohlad; Keith Rivers; Jen Rubio; Carol Schuster; Jason Swartz; The Buddy Taub Foundation directed by Jill and Dennis Roach; the Daniel Weinberg family; and Rosha Yaghmai.

This year, twenty-two works were purchased with funds raised from the museum's three acquisition committees. The Acquisition and Collection Committee is co-chaired by Trustees Kathi Cypres and Christopher V. Walker. The Emerging Art Fund is co-chaired by Trustees Jennifer Hawks Djawadi and Corinne Opman. The Drawings and Photography Committee is co-chaired by Margaret Morgan and Paula Rudnick. Additional acquisition funds were raised from The Gene J. and Betye M. Burton Acquisitions Endowment.

The full list of artists whose work MOCA acquired in 2022 includes: Doug Aitken, Kelly Akashi, David Altmejd, Richard Artschwager, Nairy Baghramian, John Baldessari, Gina Beavers, María Berrío, Andrea Bowers, Kenturah Davis, John Duff, Carroll Dunham, Shepard Fairey, Hadi Fallahpisheh, Urs Fischer, Derek Fordjour, Christina Forrer, Jessie Homer French, Dominique Fung, Jack Goldstein, Sayre Gomez, Ken Gonzales-Day, Jennifer Guidi, Rachel Harrison, Naotaka Hiro, Kahlil Robert Irving, Arthur Jafa, Kurt Kauper, Mike Kelley, Barbara Kruger, Louise Lawler, Constance Mallinson, Daniel Joseph Martinez, Mundo Meza, Jesse Mockrin, Dave Muller, Ray Navarro and Zoe Leonard, Eva Nielsen, Kayode Ojo, Catherine Opie, Gabriel Orozco, Trevor Paglen, Roxy Paine, Esteban Ramón Pérez, Raymond Pettibon, Lauren Quin, David Rabinowich, David Robbins, Sterling Ruby, Ben Sakoguchi, Wilhelm Sasnal, Collier Schorr, Kerry Schuss, Jim Shaw, Cindy Sherman, Becky Suss, Joey Terrill, Frank Thiel, Wolfgang Tillmans, Kaari Upson, John Valadez, James Welling, Kandis Williams, Carmen Winant, Rosha Yaghmai, Nancy Youdelman, and Andrea Zittel.